Product Description

Usage Guide

Supplement Facts
40,000 VOLTS! Electrolyte Concentrate can turn any beverage into an electrolyte sports replacement drink. 40,000 VOLTS! is created by blending concentrated Ionic Trace Minerals complex and Utah Sea Minerals™ in a base of liquid potassium chloride.
‍
More potent formula than before! Helps boost stamina, energy, and endurance lost through electrolyte depletion.
Sodium
Potassium
Magnesium
Chloride
May reduces muscle cramps
Also can help relieve night muscle cramps
✓ We're Here To Help!  0345 60 61 301 Mon-Fri (10am-4pm)
✓ FREE UK SHIPPING ON ALL ORDERS OVER £30!
✓ 5* Reviews Our Customers Love Us!
✓ Same Day shipping on orders placed before 1pm


SUGGESTED USE
SHAKE VIGOROUSLY. Add 1 teaspoon (approximately 80 drops) to a large glass of juice, sports drink, or other beverage before, during, or after strenuous activity to help maintain healthy electrolyte levels in the body for improved performance and fewer muscle cramps.† Can also be used to help prevent night muscle cramps.† Store at room temperature. Some crystallization may occur, but will not affect the quality or integrity of the product.
48 servings per container.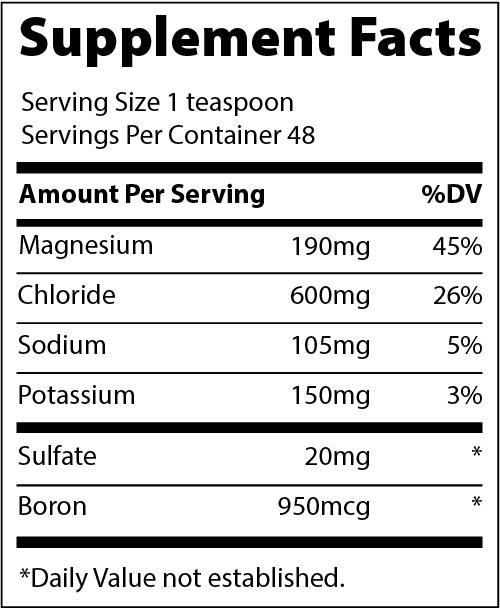 INGREDIENTS
Ionic Trace Minerals complex, purified water, Utah Sea Minerals™, potassium chloride, Non-GMO citric acid.
ALLERGEN INFO
NO KNOWN ALLERGENS. GLUTEN FREE. VEGAN. BPA FREE