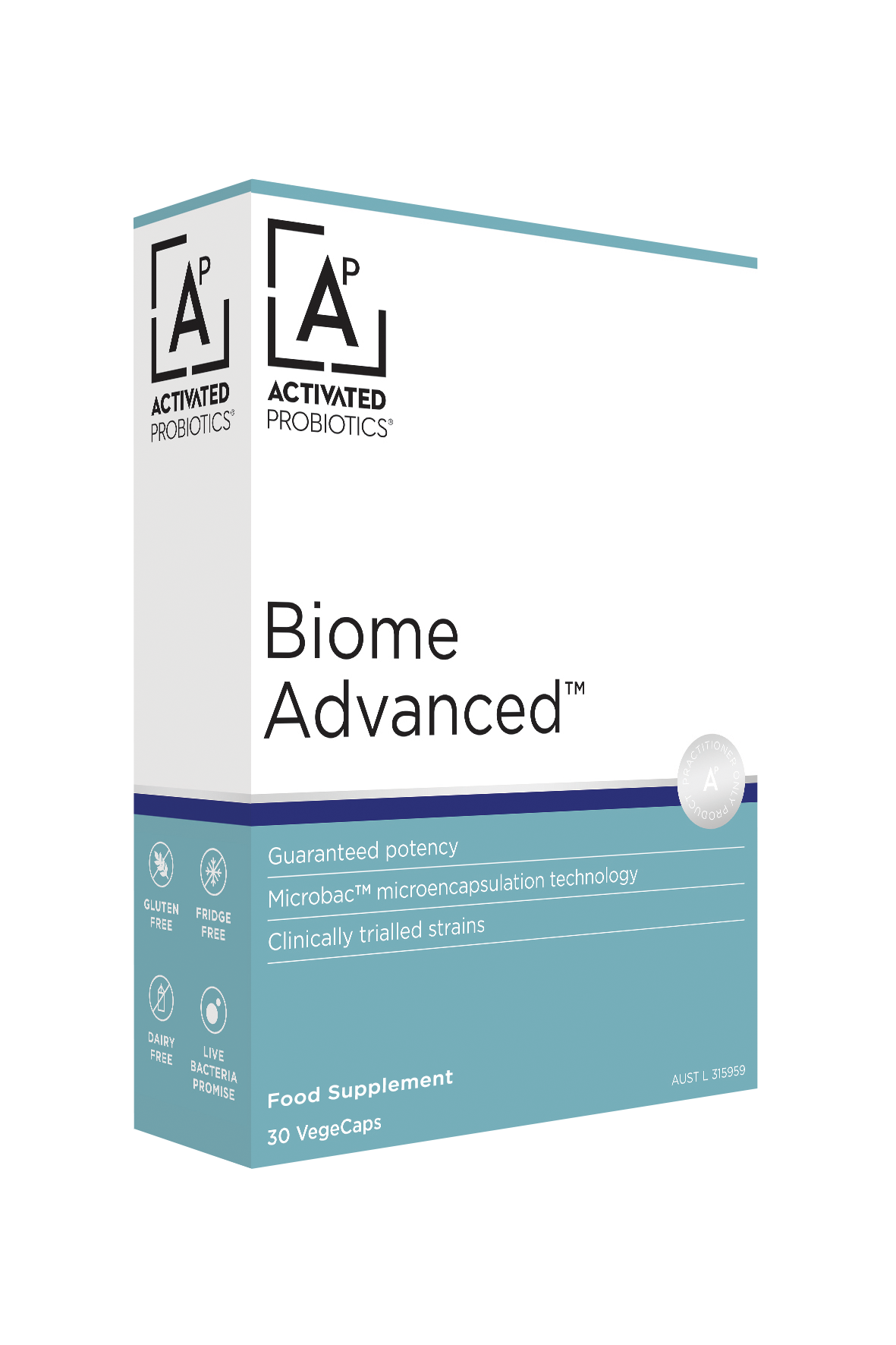 Activated Probiotics Biome Advanced 30's
Activated Probiotics
APADV30C
Description

Ingredients

Usage Guide
More than 30 million courses of antibiotics are prescribed each year in Australia (1). In order to target a range of different pathogenic microorganisms, most have broad-spectrum antimicrobial activity. An unintended consequence of this is that our beneficial gut bacteria are adversely affected, which can induce a state of microbial imbalance - known as intestinal dysbiosis.
Intestinal dysbiosis can result in diarrhoea, and when related to antibiotic use, is known as antibiotic-associated diarrhoea (AAD). AAD is a relatively common side effect of antibiotic use, which can persist for months after the course has ended (2). As an intervention, probiotic supplements have been shown to reduce the risk of developing AAD by 51%, with Lactobacillus rhamnosus GG being the most effective probiotic strain, reducing the risk by 71% (3). Further, probiotics may help to restore the abundance and diversity of beneficial gut bacteria following a course of antibiotics.
To reduce the risk of AAD and support the balance of beneficial gut bacteria during antibiotic use, we recommend commencing daily supplementation with Biome Advanced™ Probiotic on the first day of antibiotic use, for a minimum of two weeks after the completion of the course.
Supports beneficial gut bacteria during antibiotic use
Helps restore beneficial gut bacteria after antibiotic use
Promotes healthy digestion and bowel regularity
Nutritional Information
Serving Size:  1
Servings Per Container: 30

 

Amount Per Serving

Lactobacillus plantarum 6595 (DSM 6595)

9 BLB*

Lactobacillus plantarum HEAL9 (DSM 15312)

0.5 BLB*

Lactobacillus paracasei 8700:2 (DSM 13434)

0.5 BLB*

Lactobacillus rhamnosus GG (ATCC 53103)

5 BLB*

Lactobacillus acidophilus LA02 (DSM 21717)

5 BLB*

Bifidobacterium animalis subsp. lactis BS01 (LMG P-21384)

10 BLB*

Total live bacteria

30 BLB*

*BLB = Billion Live Bacteria
DIRECTIONS FOR USE
Adults and children over 12 years: take 1 capsule daily (with or without food), or as directed by your healthcare practitioner. Take Biome AdvancedTM daily during antibiotic use, starting on the first day of the course. Continue taking Biome AdvancedTM daily for at least two weeks after completing the course of antibiotics. If you are pregnant or breastfeeding – seek the advice of a healthcare practitioner before using. If symptoms persist, consult your healthcare practitioner. Drink plenty of water. Do not use when abdominal pain, nausea or vomiting are present, or if you develop diarrhoea.