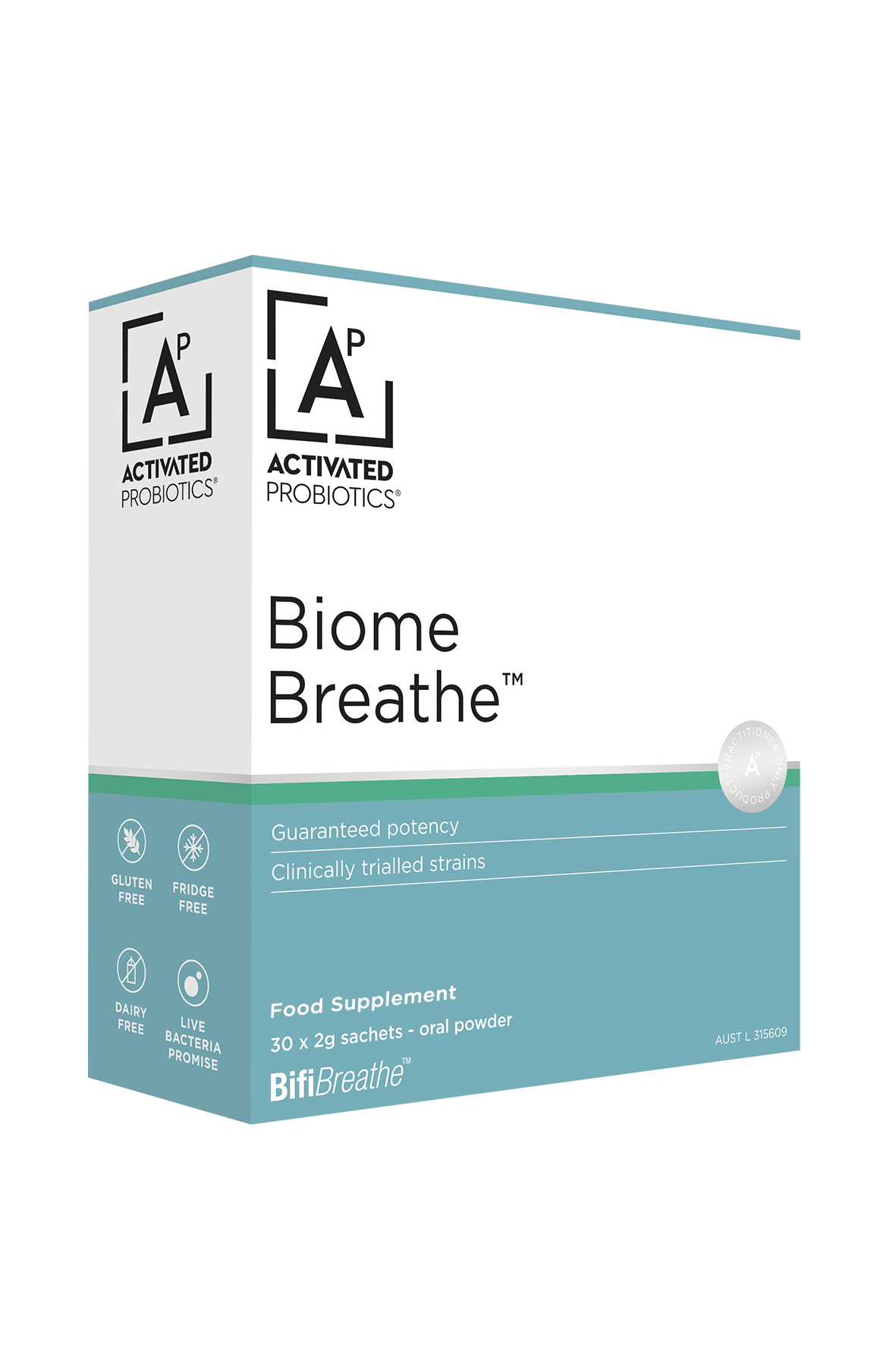 Activated Probiotics | Biome Breathe | 30 Sachets
Activated Probiotics
APBRV30F
Description

Ingredients

Usage Guide
The bacteria that live in our gut are able to stimulate our immune system in other parts of the body, including the lungs. This communication between the gut and the lungs has been termed the gut-lung axis. Through their benefit on the health of the gut microbiome, probiotics are able to stimulate the immune system in the lungs, which may hep to control the symptoms of respiratory conditions.
In a recently completed clinical trial in children with allergic asthma or recurrent wheezing, supplementation with Biome Breathe Probiotic daily for 4 months significantly reduced the number of asthma attacks the children experienced during both the treatment period and 4-month follow-up period, compared to placebo. On the basis of these encouraging clinical trial results, Biome Breathe™ Probiotic may be considered as an adjunct to medications indicated for paediatric asthma management, including preventer, reliever, or combination medications.
Nutritional Information
Serving Size:  1
Servings Per Container: 30

 

Amount Per Serving

Lactobacillus salivarius LS01 (DSM 22775)

1 BLB*

Bifidobacterium breve B632 (DSM 24706)

1 BLB*

Total live bacteria

2 BLB*

*BLB = Billion Live Bacteria
Non-Active Ingredients
Sweeteners (sorbitol, xylitol), maltodextrin, antioxidant (glyceryl palmiti-stearate), flavour enhanced (natural vanilla flavour), anti-caking agent (silicon dioxide)
Suggested use:-
Adults and children over 3 years old: take one sachet daily, or as directed by your healthcare practitioner. Add water or milk, or mix into yoghurt.
Warnings:-
Drink plenty of water.
Keep out the reach of children