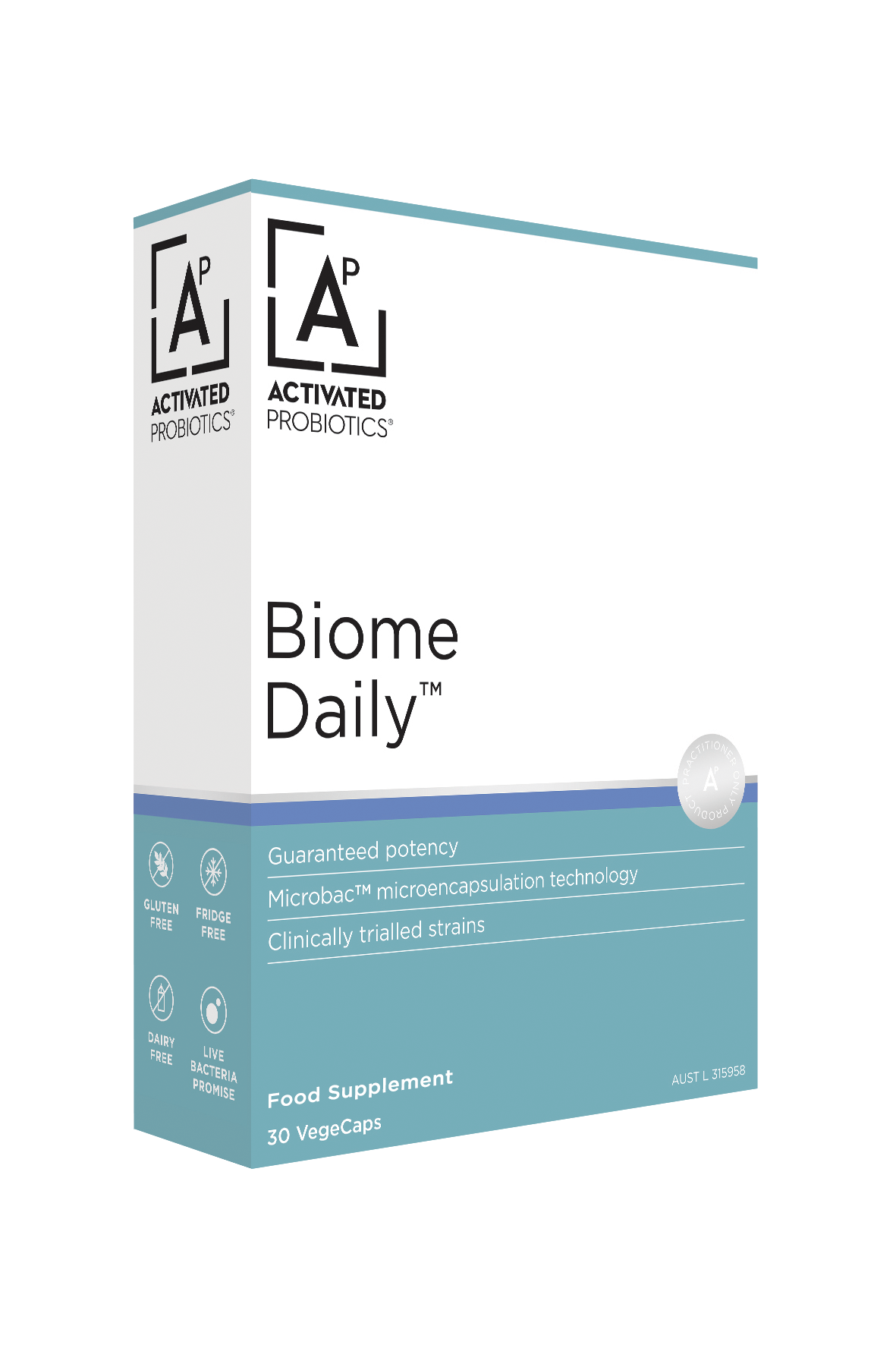 Activated Probiotics Biome Daily 30 Capsules
Activated Probiotics
APDAI30CAU
Description

Ingredients

Usage Guide
Two of the main benefits of probiotic supplementation in healthy people are their ability to enhance the function of the immune system, and promote healthy digestion.
Biome Daily™ Probiotic contains two exclusive probiotic strains (Lactobacillus plantarum HEAL9 and Lactobacillus paracasei 8700:2) which have been extensively researched for their ability to reduce the frequency, severity, and duration of common colds .
Biome Daily™ Probiotic is recommended as a complement to vitamin and mineral supplements and herbal preparations indicated for immune support. For customers with digestive concerns taking dietary fibre supplements, Biome Daily™ Probiotic can help to promote healthy digestive function.
Helps enhance immune system function
Promotes healthy digestion
Helps reduce the occurrence of common colds
Supports bowel regularity
Nutritional Information
Serving Size:  1
Servings Per Container: 30

 

Amount Per Serving

Lactobacillus plantarum 6595 (DSM 6595)

2 BLB*

Lactobacillus plantarum HEAL9 (DSM 15312)

0.5 BLB*

Lactobacillus paracasei 8700:2 (DSM 13434)

0.5 BLB*

Lactobacillus rhamnosus GG (ATCC 53103)

1 BLB*

Lactobacillus acidophilus LA02 (DSM 21717)

1 BLB*

Bifidobacterium animalis subsp. lactis BS01 (LMG P-21384)

4 BLB*

Total live bacteria

9 BLB*

*BLB = Billion Live Bacteria
Adults and children over 12 years: take 1 capsule daily (with or without food), or as directed by your healthcare practitioner.
If you are pregnant or breastfeeding – seek the advice of a healthcare practitioner before using.
Drink plenty of water.
Do not use when abdominal pain, nausea or vomiting are present, or if you develop diarrhoea.