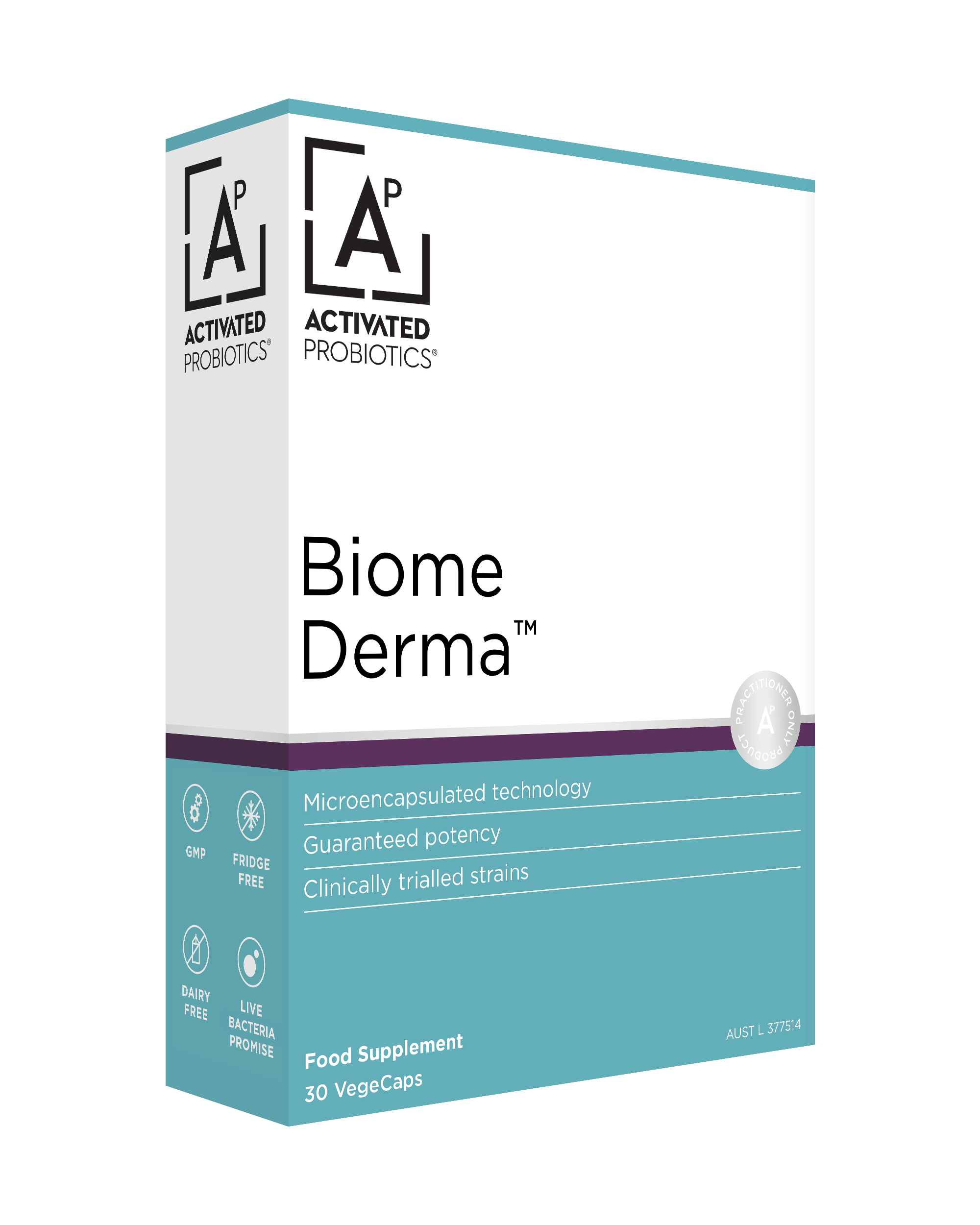 Activated Probiotics | Biome Derma | 30 Capsules
Activated Probiotics
APACN30CAU
Description

Ingredients

Usage Guide
Biome Derma Probiotic is a dietary supplement that contains live, active cultures of friendly bacteria that are clinically proven to help reduce acne breakouts. The probiotic is taken orally once daily and works by restoring the balance of good bacteria in the gut, which in turn, helps to reduce inflammation and the overproduction of sebum that can lead to acne breakouts. 
Relieves the symptoms of acne
Reduces skin redness
Improves healthy skin flora
Microbac technology: 5x more effective delivery
Clinically trialled probiotic strains
Guaranteed potency
Shelf stable - refrigeration not required
Each capsule contains:
Lactobacillus salivarius LS03 (DSM 22776).............. 1 BLB*
Bifidobacterium breve BR03 (DSM 16604)..........,.. 0.5 BLB*
Lactobacillus casei LC03 (DSM 27537).................. 0.5 BLB*
Total live bacteria....................................................... 2 BLB*
*BLB = Billion Live Bacteria
Ingredients: Maltodextrin, vegetable capsule (hydroxypropyl methyl cellulose), antioxidant (glyceryl palmito-stearate), anti-caking agent (silicon dioxide).
Adults and children over 12 years: take 1 capsule daily (with or without food), or as directed by your healthcare practitioner.
If you are pregnant or breastfeeding – seek the advice of a healthcare practitioner before using.
WARNING:
Do not exceed the recommended daily dose.
Not to be used as a substitute for a varied diet.
Keep out of the reach of young children.
Do not use if carton seal is missing or damaged, or if blister seal is broken.
Storage:
Refrigeration not required. Store below 25°C in a cool, dry place. Do not freeze.