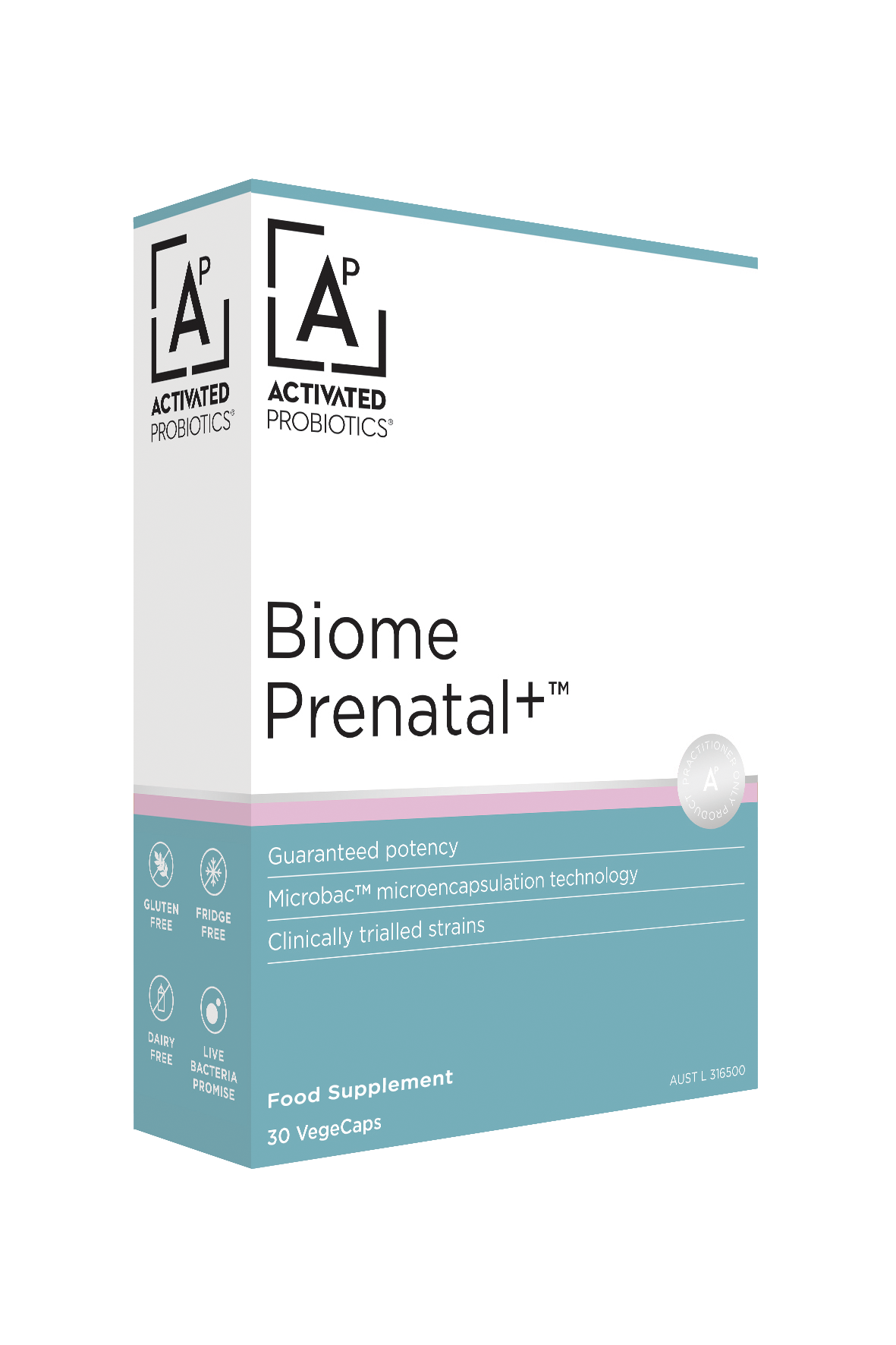 Activated Probiotics Biome Prenatal+ 30 caps
Activated Probiotics
APPRE30C
Description

Ingredients

Usage Guide
Biome Prenatal+ Probiotic contains essential vitamins and minerals to support a healthy pregnancy, including 400mcg folic acid, 400IU vitamin D3, 150mcg iodine and 2.6mcg vitamin B12, with premium probiotic strains to support digestive health and immunity.
Biome Prenatal+ Probiotic is intended for use as a stand-alone prenatal supplement, which can be paired with a low-dose iron supplements if required.
Supports a healthy pregnancy
Helps to prevent neural tube defects
Promotes healthy foetal development
Supports foetal brain development
Helps enhance preconception & maternal health
Nutritional Information

Serving Size:  1
Servings Per Container: 30

 

Amount Per Serving

Lactobacillus plantarum 6595 (DSM 6595)

5 BLB*

Lactobacillus rhamnosus GG (ATCC 53103)

5 BLB*

Lactobacillus fermentum LF08 (DSM 18297)

1 BLB*

Lactobacillus crispatus LCR01 (DSM 24619)

1 BLB*

Bifidobacterium breve BR03 (DSM 16604)

5 BLB*

Bifidobacterium animalis subsp. lactis BA05 (DSM 18352)

3 BLB*

Total live bacteria

20 BLB*

Folic acid

500 mcg

Vitamin D3 (as cholecalciferol)

400 IU (10 mcg)

Iodine (as potassium iodide)

150 mcg

Vitamin B12 (as cyanocobalamin)

2.6 mc

*BLB = Billion Live Bacteria
Adults: take 1 capsule daily (with or without food), or as directed by your healthcare practitioner. 
Warnings:
Advise your doctor of any medicine you take during pregnancy, particularly in your first trimester.
If you are concerned about the health of yourself or your baby, talk to your healthcare practitioner.
Vitamin supplements should not replace a balanced diet.