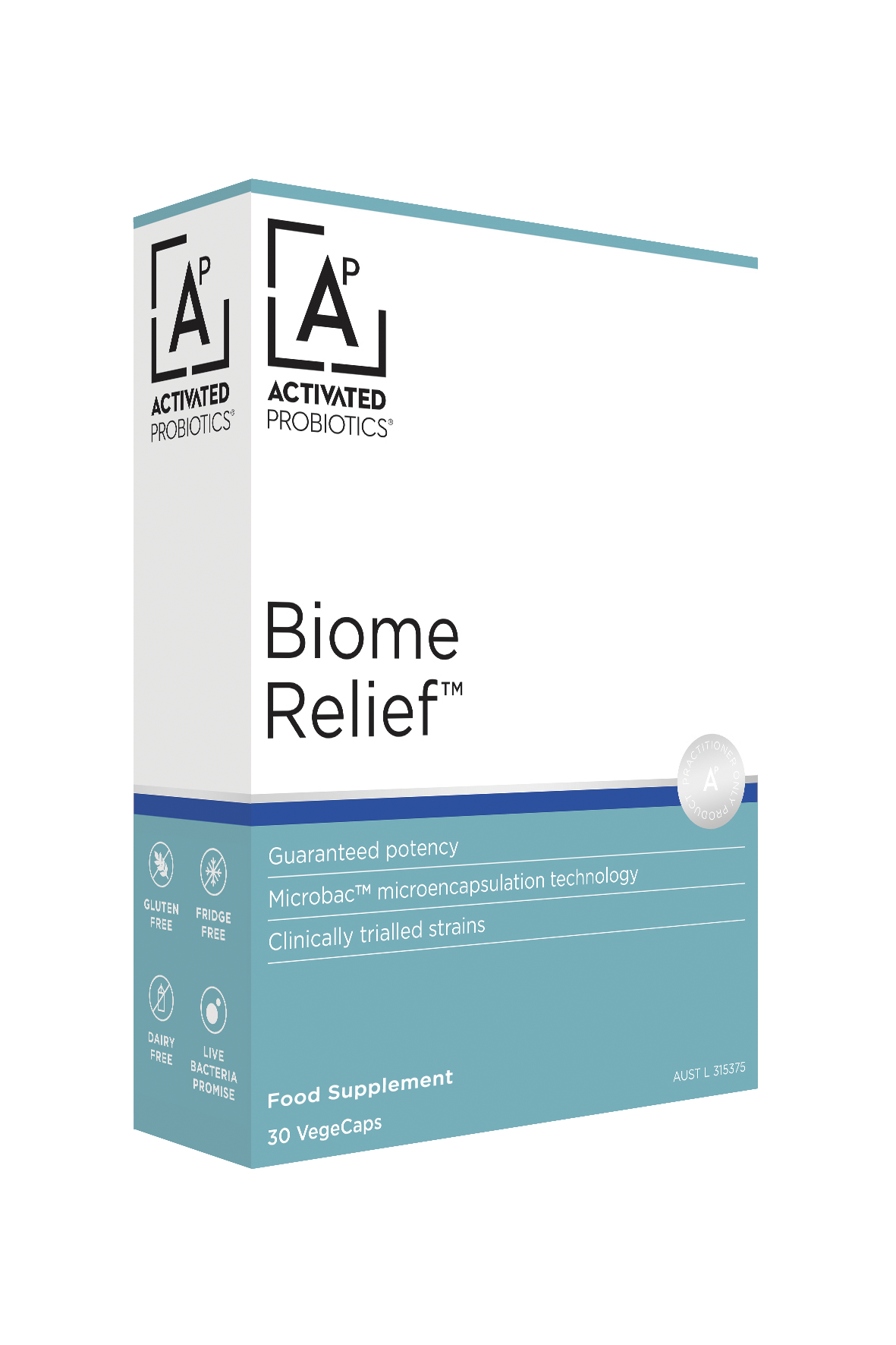 Activated Probiotics | Biome Relief | 30 Capsules
Activated Probiotics
APIBS30C
Description

Ingredients

Usage Guide
Irritable Bowel Syndrome (IBS) is a common functional gastrointestinal disorder characterised by recurrent abdominal pain, bloating, and constipation and/or diarrhoea. As the underlying pathophysiology of the condition is complex and likely multifactorial, treatment options aim to manage the most distressing symptoms, such as laxatives for constipation, or loperamide for diarrhoea.
Clinical trials in patients with IBS have demonstrated the efficacy of two key probiotic strains for the reduction of the symptoms of IBS: Lactobacillus plantarum 299v and Lactobacillus rhamnosus GG. Biome IBS™ Probiotic contains these two key probiotic strains, each at a therapeutic dose supporting by the clinical research (10 Billion Live
Bacteria), and is indicated for the management of the symptoms of medically diagnosed Irritable Bowel Syndrome.
We recommend co-prescribing Biome IBS™ Probiotic to patients with medically diagnosed IBS as an adjunct to medications indicated for IBS, or for use as a complement or alternative to listed medicines indicated for IBS.
Relieves the symptoms of medically diagnosed Irritable Bowel Syndrome
Relieves abdominal bloating
Promotes bowel regularity
Nutritional Information
Serving Size:  1
Servings Per Container: 30

 

Amount Per Serving

Lactobacillus plantarum 299v (DSM 9843)

10 BLB*

Lactobacillus rhamnosus GG (ATCC 53103)

10 BLB*

Bifidobacterium breve BR03 (DSM 16604)

3 BLB*

*BLB = Billion Live Bacteria
Adults and children over 12 years: take 1 capsule daily (with or without food), or as directed by your healthcare practitioner. 
Warnings:
If you are pregnant or breastfeeding – seek the advice of a healthcare practitioner before using.
If symptoms persist or worsen, consult your medical practitioner.
Drink plenty of water.
Do not use when abdominal pain, nausea or vomiting are present, or if you develop diarrhoea.