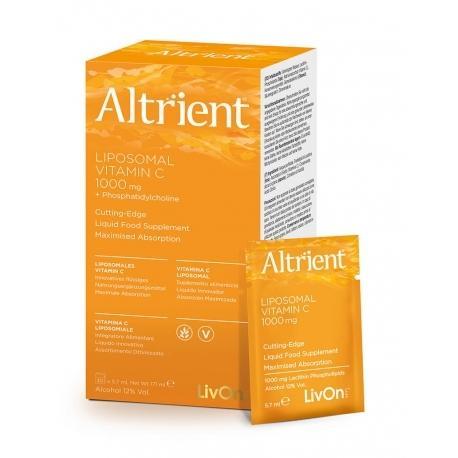 Altrient Lypospheric Vitamin C - 30 Sachets
Altrient
ALTRIENTC
Product Description

Supplement Facts

Precautions

Usage guide
Altrient C is clinically proven to help support skin elasticity, hydration and collagen levels within 3-months by 61%
Vitamin C also helps protect cells from oxidative stress, helps reduce tiredness and fatigue and contributes to normal collagen synthesis for the normal function of bones, cartilage, gums, skin and teeth. A perfect go-to supplement when feeling run down since vitamin C supports the normal function of the immune system.
Choose Altrient C for a wonderful you…
favoured by outdoor enthusiasts and active lifestyle lovers

convenient and easy way to top-up your daily vitamin C

1000mg of vitamin C and extra 500mg phosphatidylcholine per sachet

cutting-edge, clinically researched liposomal technology for maximised absorption

super absorbent, gentle on the gut to avoid gastric discomfort

Purest form, gluten-free, vegan, hexane-free

New research shows Altrient C makes skin up to 61% firmer

Many times more powerful than other non-liposomal oral forms of Vitamin C

Bioavailability: Maximised results through maximised absorption due to a patented liposomal encapsulation technology process

High potency Vitamin C where you need it most, to your cells
Each box contains 30 x 1000mg sachets of vitamin C supplement as a liposomal gel
Gluten free
GMO free
Vegan
Altrient C Nutritional Facts Serving Size: 1 Sachet (5.7mL) Servings Per Container: 30

Amount Per Serving



 % RDA*

Vitamin C (as sodium ascorbate)

1,000 mg

1,250%

Phospholipids

1,000 mg

†

Of which phosphatidylcholine

500 mg

†

* Recommended Daily Allowance
†RDA not established

Ingredients: Deionized Water, Sodium Ascorbate, Lecithin Phospholipids, Alcohol (ethanol 12% w/w), Citric Acid (for PH adjustment).
Store in a cool, dry place.
Do not freeze or place the product in direct sunlight for extended periods of time.
Do not blend or vigorously agitate 
Shelf Life: When stored properly it will stay 100% effective for a minimum of 24 months from the date of manufacture. The expiration date is on the bottom of each carton and on each packet as "EXP --/--".
 Take 1-2 sachets a day
May take up to 10 sachets or more a day for acute conditions†
Does not dissolve in liquid Do not blend, process or put in hot water Squeeze sachet into a shot glass amount of water or juice
Best taken on an empty stomach to speed up the absorption It can be folded gently into a yoghurt