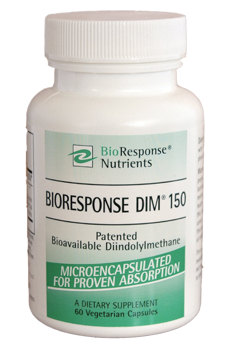 Bio Response Dim150
BioResponse®
DIM150
Product Description

Contents

Further Info

Supplement Facts
In its pure, crystalline state, Diindolylmethane (DIM) is inadequately absorbed by the human body. BioResponse's microencapsulated absorbable DIM is the only patented, absorption-enhanced formulation for Diindolylmethane. BioResponse DIM? is derived from a plant indole, Diindolylmethane (DIM). This indole is found in all cruciferous vegetables, including broccoli, cabbage, brussels sprouts and cauliflower. DIM improves estrogen metabolism and helps support healthy estrogen and testosterone balance. BioResponse DIM? has been used in both men and women.
What is BioResponse DIM??
 Patented BioResponse DIM? is a microencapsulated, absorption-enhanced formulation of DIM. With regular use, BioResponse DIM? helps balance our hormone metabolism. This unique nutrient delivery method for DIM guarantees the absorption of DIM. DIM stands for 3,3-Diindolylmethane, the natural indole found only in cruciferous vegetables. DIM occurs within the cruciferous vegetable plant after crushing or chewing. Plant enzymes produce DIM from precursors called glucosinolates. DIM promotes beneficial estrogen metabolism in both women and men. This estrogen metabolism is more favorable because it increases conversion of estrogen to 2-hydroxy and 2-methoxy metabolites. DIM is not a plant estrogen. Prominent researchers have documented that this balance of estrogen metabolites is an important factor in maintaining breast, uterine, cervical and prostate health. Women and men also use BioResponse DIM as an integral part of successful weight management programs. In its pure, crystalline state, DIM is inadequately absorbed by the human body. Microencapsulated BioResponse DIM is the only absorbable (bioavailable) formulation of pure DIM. BioResponse DIM is the only DIM with proven absorption and activity demonstrated in independently performed clinical studies. BioResponse's patented formulation contains microencapsulated complexes of diindolylmethane for guaranteed and sustained gastrointestinal absorption. 
✓ We're Here To Help!  0345 60 61 301 Mon-Fri (10am-4pm)
✓ FREE UK SHIPPING ON ALL ORDERS OVER £30!
✓ 5* Reviews Our Customers Love Us!
Mg Per Cap: 150 mg BioResponse DIM®
Caps: 60 per bottle
Active Ingredient: Diindolylmethane
Recommended Dosage: 1-2 Capsules per day.
How BioResponse DIM? Works

BioResponse-DIM acts to overcome the extreme insolubility of DIM and makes DIM absorbable from the human digestive tract. The absorption-enhancing formulation is a patented, nutrient delivery system necessary for adequate absorption of pure DIM. Once absorbed, DIM from BioResponse DIM acts to promote and support a favorable metabolism of estrogen and related hormones. BioResponse DIM? contains pure DIM, microencapsulated in particles complexed with a vitamin E derivative and phospholipids to allow absorption from our intestinal track. The patented formulation process for making BioResponse-DIM creates microparticles of DIM, emulsifies the DIM with Vitamin E and phospholipids, and captures these complexes through a drying process in larger particles of pure food starch. This results in a sustained-release, dry powder which re-dissolves easily after oral consumption. When included as a dietary ingredient, BioResponse DIM use supports metabolism and augments our dietary intake of cruciferous vegetables. A daily intake of 3-5 servings of vegetables, especially cruciferous vegetables, is recommended by the USDA "Dietary Guidelines for Americans". BioResponse DIM provides a source of cruciferous indole which is shelf-stable following mixture, encapsulation or tableting with other dietary supplement ingredients. Regular use of BioResponse DIM serves to augment or replace deficient daily intake of cruciferous vegetables, contributing to health promotion.
Supplement Facts

- BioResponse DIM

Serving Size

: 2 Capsules
Servings per Container: 30
BioResponse DIM Main Ingredients

Amount Per Serving 

% Daily Allowance

BioResponse DIM
(A patented enhanced bioavailablity complex containing min. 25% diindolylmethane) Starch, diindolylmethane, Vitamin E (as d-alpha tocopheryl succinate), phosphatidyl choline, silica.

300mg

**

**Daily Value Not Established

Other ingredients: Rice concentrate, dicalcium phosphate, vegetable cellulose, titanium dioxide, silica and magnesium stearate.

Free of yeast, salt, sugar, wheat, gluten, milk, soy, preservatives, or ingredients from animal sources.

Store in a cool, dry place.