Product Description

Features

Supplement Facts

Usage Guide
A botanical and nutrient blend to support the liver and LPS metabolism
Bio.Clear™ Endotox-LV has been developed to support liver function and bile production and flow, which also helps the clearance of endotoxins [lipopolysaccharides (LPS)].
This formula contains hepatoprotective and choleretic (increasing bile) botanicals such as hibiscus, burdock, spirulina, chlorella, milk thistle, dandelion and artichoke. Selenium has been added to support our endogenous antioxidant systems.
Protects cells from oxidative stress
Selenium contributes to normal thyroid function, and the protection of cells from oxidative stress.
Rich in Phytochemicals
Hibiscus is a rich source of phytochemicals, burdock is a powerhouse of antioxidants, and spirulina is a good source of vitamins and minerals.
Well-researched botanicals
Current studies on hibiscus indicate it that it is supportive of liver function and pharmacological research studies indicate that the compounds in burdock have anti-inflammatory properties.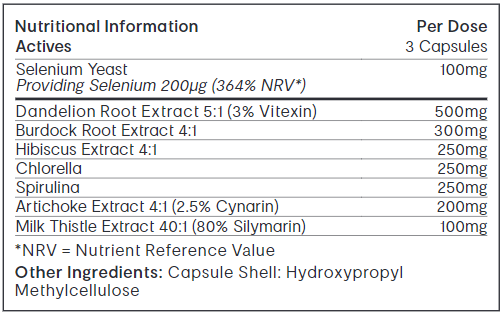 Take 3 capsules daily.
 Do not exceed the recommended dose, unless advised by your healthcare professional.