Product Description

Features

Supplement Facts

Usage Guide
Phytobiotics to support gut ecology. 
Bio.Me Essential is a foundational prebiotic formula for your body's multiple microbiomes.
Bio.Me Essential was created to support a healthy microbiota, gut barrier, reduce gut inflammation and support the innervation to the gastrointestinal tract. It also works on the gut-brain axis.
Bio.Me Essential contains multiple evidence-based polyphenol-rich ingredients, including citrus bioflavonoid extract, blackcurrant, grapeseed, cocoa, pomegranate and green tea to balance and optimise your microbiomes.
The addition of lemon balm, chamomile and withania supports the gut-nervous-system-axis and may help with gut symptoms associated with nervousness and anxiety.
Bio.Me Essential can also be used in synergy with other products in the Bio.Me range.
N.B. caffeine content per dose (3 capsules) is 4 mg (approximately equivalent to 1/5 of a cup of green tea).
Contains polyphenols to support a balanced microbiome
Essential provides a rich mix of polyphenols from natural ingredients to help support a healthy balance of gut bacteria
Clinically studied
MicrobiomeX (derived from bitter orange) has been shown in clinical studies to help gut microbiota to produce metabolites necessary for good gut barrier function and immune cell activity.
Contains Ashwagandha Root Extract
Ashwagandha Root Extract has traditionally been used as an adaptogen and has been shown in studies to lower levels of the stress hormone cortisol.
Supports Rest and Digestion
Lemon balm is a carminative herb that contributes to a good and calm rest and is supportive of the digestive system.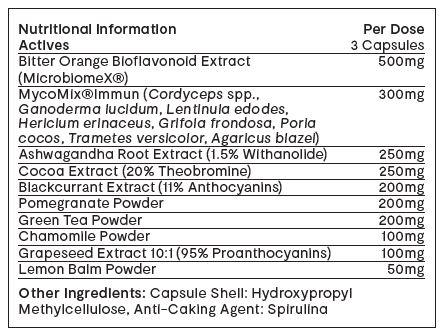 Take 3 capsules. Do not exceed the recommended dose, unless advised by your healthcare professional.