Description

Features

Supplement Facts

Usage Guide
Clinically researched probiotics for the female microbiome. 
A multi-strain live bacteria formula, which simultaneously works on the gut, vagina and urinary microbiome to support and balance these female ecosystems.
Also containing Probioact Technology
PROBIOACT® stands for probiotic activity and is a technology developed by Winclove which focuses on the ingredients that surround the probiotic bacteria.
The PROBIOACT® Technology consists of product-specific protective and nutritional ingredients, which have been selected and extensively tested to:
• Keep the probiotics stable at room temperature, and retain high cell counts during shelf life with a water-soluble carrier matrix of starches and maltodextrin.
• Protect against osmotic shock during rehydration and consumption with minerals.
• Protect against stomach acid, bile and digestive enzymes in the GI-tract with vegetable proteins.
• Optimise the metabolic activity at the right time and place with an enzyme, prebiotic and vegetable protein nutrient resource.
Contains: Soybeans
Supported by clinical data
The bacterial strains in this formulation have been studied for their effects on epithelial barriers and pathogen growth in the vagina, bladder and gut
Helps to balance pH
Lactobacillus species have been shown to help to acidify the bladder and urinary tract through lactic acid production
Rebalances the Microbiome
Research has also shown that these cultures support the rebalancing of the microbiome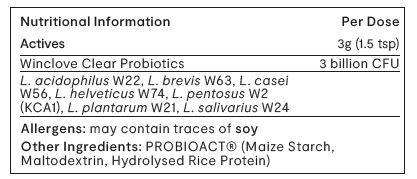 Mix 3g (1.5 tsp) daily into 100ml of water. Leave for 1 minute. Stir and take on an empty stomach.
Do not exceed the recommended dose, unless advised by your healthcare professional.