Description

Features

Supplement Facts

Usage Guide
Clinically researched probiotics with biotin to support the nervous system and psychological function
Bio.Me™ Mind + Mood is a clinically researched multi-strain live bacteria which has been formulated with biotin to support symptom modulation of mood imbalances such as anxiety and depression, and to support reduction of stress-related gut complications.
Contains: Milk, Soybeans
May contain traces of: Sulphites
For the management of stress-related gut complications
To help promote a healthy mood balance
To help modulate feelings of anxiety
Clinically researched for effects on mood imbalances & stress associated bowel symptoms
Contains live bacteria strains that have been researched extensively in humans for their effects on human mood imbalances, such as anxiety and depression and stress associated bowel symptoms
Can be safely taken with other psychotropic medications
Can be taken safely alongside existing psychotropic medications such SSRI's etc.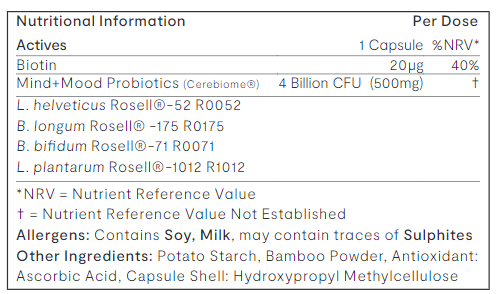 Take 1 capsule with or without food, capsules can be swallowed whole or mixed in water for ease of dosing. Do not exceed the recommended dose, unless advised by your healthcare professional.