Description

Features

Supplement Facts

Usage Guide
An organic, ethical bovine colostrum containing 35% immunoglobulins for gastrointestinal health & immune support. 
Bio.Revive Colostrum capsules contain 35% immunoglobulins sourced from high-welfare, organically farmed cows. Colostrum is a rich source of immunoglobulins, lactoferrin, lactoperoxidase, lysozymes, interleukins, oligosaccharides, growth factors and insulin-like growth factor 1.
Bio.Revive™ Colostrum is micro-filtered for casein, leaving a full-spectrum whey product.
Sourced from organically farmed cows
The organic colostrum is naturally high in immunoglobulins and lactoferrin.
Antimicrobial properties
Oligosaccharides in colostrum help increase the growth of Bifidobacterium and Lactobacilli, which promote a healthy microbiome.
Supports gastrointestinal barrier health
Human clinical trials using colostrum show improved markers of gastrointestinal barrier health.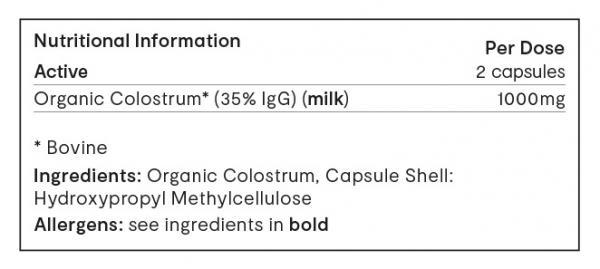 Take 2 capsules daily.
Warnings:
Do not exceed the recommended dose, unless advised by your healthcare professional.
Contains Lactose