Product Description

Features

Supplement Facts

Usage Guide
A phytonutrient formula to support the gastrointestinal membrane and increase Akkermansia spp.
Bio.Revive™ Mucin + has been formulated with the health of the mucosal layer of the gastrointestinal tract in mind. It contains mucilaginous herbs such as Muco-Save® which has been awarded a patent for the 'active protection of sensitive mucosae' and for preventing gastro-oesophageal reflux disease (GORD), as well as brown seaweed polysaccharides (Fucoidans) and Aronia berry extract (Aroniacraft®), which have been shown to increase Akkermansia spp.
It is safe to use in cases of intestinal permeability, ulcers, and GORD.

Clinically researched and patented botanicals
Muco-Save FG has been shown in clinical trials to improve symptoms of gastro-oesphogeal reflux disease (GORD) and has been awarded a patent for protecting mucosal surfaces
Supports the mucosal lining
Fucoidan present in brown seaweed polysaccharides has been shown in research to increase butyrate-producing bacteria which play an important role in maintaining the mucosal lining.
Contains clinically researched polyphenols
Aronia is a good source of polyphenols, and has been shown in studies to increase beneficial Akkermansia bacteria and short-chain fatty acids (SCFA) to support the gut microbiome
Strengthens immunity
Ensures the necessary amount of iodine in the body for the physiological self-regulation of iodine exchange.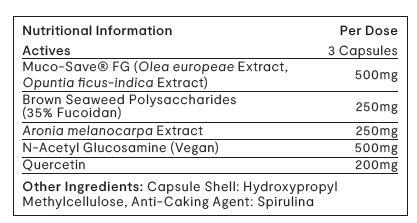 Take 3 capsules daily.
Caution: May initially cause digestive discomfort in some individuals In rare cases. If this occurs, please reduce the dose and gradually increase to the recommended dose, in consultation with your healthcare practitioner.