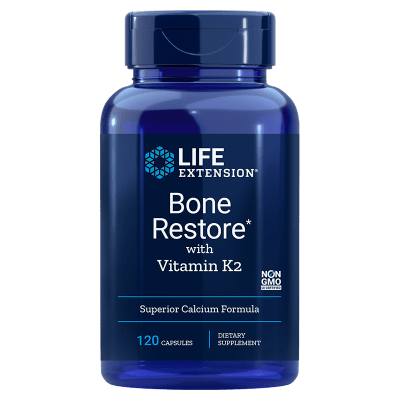 Bone Restore with Vitamin K2 | 120 Capsules | Life Extension
Life Extension
LE01727
Product Description

Supplement Facts

Usage Guide
Comprehensive Bone Health Support 
Bone Restore with Vitamin K2 can contribute to keeping calcium, magnesium boron, zinc, manganese, silicon, Vitamin D3 and K2 balance within normal range.  As we age we may experience loss in bone density, why it is important to support healthy bones and postpone the natural aging process.
Although calcium is the most abundant mineral in the body and is a key component in building bone and teeth, most people don't get enough calcium to offset the amount being lost over the course of aging.
Postmenopausal women commonly experience loss of bone mineral density but older men can also face this issue.
Moreover, many forms of calcium are not well-absorbed. Bone Restore with Vitamin K2 provides three types of calcium which are easy for the body to absorb; dicalcium malate, calcium fructoborate, and calcium bisglycinate chelate come in capsule form to ensure that it breaks down in the digestive tract easily.
Loss of bone density is not just associated with calcium deficiency alone. An insufficient intake of many other nutrients including magnesium and vitamin D3 can also play a role in bone density loss. In order for calcium to help maintain healthy bones, adequate amounts of magnesium zinc manganese vitamin D3, and other nutrients should be available in the body so that calcium and phosphorus can be used to build bone strength.
Supplement Facts
Serving Size 4 capsules

Servings per Container 30

Amount per Serving

Vitamin D3 (as cholecalciferol)

25 µg

Vitamin K2 (as trans menaquinone-7)

200 mcg

Calcium (as DimaCal® dicalcium malate, TRAACS® calcium bisglycinate chelate, calcium fructoborate)

700 mg

Magnesium (as magnesium oxide)

300 mg

Zinc (as zinc amino acid chelate)

2 mg

Manganese (as manganese amino acid chelate)

1 mg

Silicon [from horsetail (Equisetum arvense) extract (herb)]

5 mg

Boron (calcium fructoborate as patented Fruitex B® OsteoBoron®)

3 mg

Other ingredients: vegetable cellulose (capsule), vegetable stearate, maltodextrin, silica, microcrystalline cellulose, corn starch.

Non-GMO
Fruitex B® and OsteoBoron® are registered trademarks of VDF Futureceuticals, Inc. U.S. patent #5,962,049.
DimaCal® and TRAACS® are registered trademarks of Albion Laboratories, Inc.
Malate is covered by U.S. Patent 6,706,904 and patents pending.
Dosage and Use
Suggested daily intake is four (4) capsules or as directed by a medical practitioner. 

Scientific studies suggest calcium supplementation in divided doses, with food in the morning and evening, may yield the best results. 

Maintaining an optimal vitamin D blood level also helps to maximise calcium absorption.
Caution
If you are taking anti-coagulant or anti-platelet medications, or suffer from a bleeding disorder, please, consult your medical practitioner first.
Warnings
Keep out of reach of children.

Do not exceed recommended dose.

Do not purchase if outer seal is broken or damaged.

If you are undergoing treatment for a medical condition or if you are pregnant or lactating, please, consult your medical practitioner first.