Product Description

Suggested Use
Collagen Effervescent Tablets are a great tasting and easy way to supplement your diet with collagen peptides. Collagen is the most abundant protein in the body and it supports healthy hair, skin, nails, bones, joints, connective tissues, and muscles. However, your body slows down production of it as you age. Collagen production can also slow down due to certain health conditions and unhealthy lifestyle habits like sun exposure and an unhealthy diet. 
SUGGESTED USE:
Take 1 tablet twice daily with food or at mealtime. Open tube, drop tablet in 4-6 oz. of water until dissolved & dilute to your taste preference if desired.
Collagen Type 1 & 3
10 tablets per tube
Peach Mango Flavour
✓ We're Here To Help!  0345 60 61 301 Mon-Fri (10am-4pm)
✓ FREE UK SHIPPING ON ALL ORDERS OVER £30!
✓ 5* Reviews Our Customers Love Us!
✓ Same Day shipping on orders placed before 1pm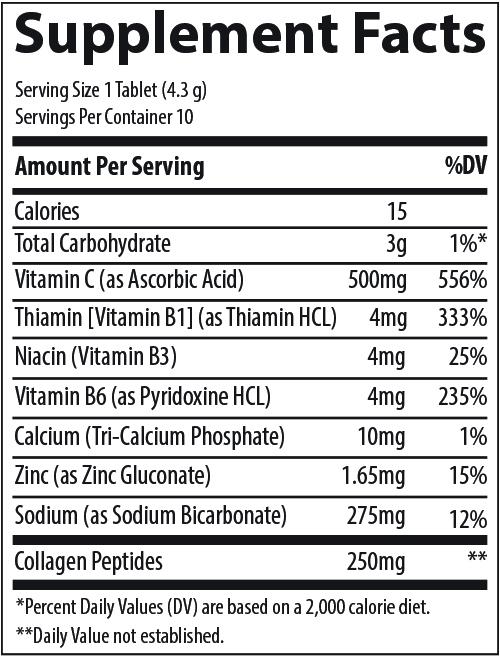 INGREDIENTS:
Non-GMO citric acid, xylitol, Non-GMO corn starch, inulin, natural flavors blend (peach, mango), steviol glycosides, natural colors [beet (Beta vulgaris) root juice powder, lutein].
ALLERGEN INFO:
NO KNOWN ALLERGENS. GLUTEN FREE.