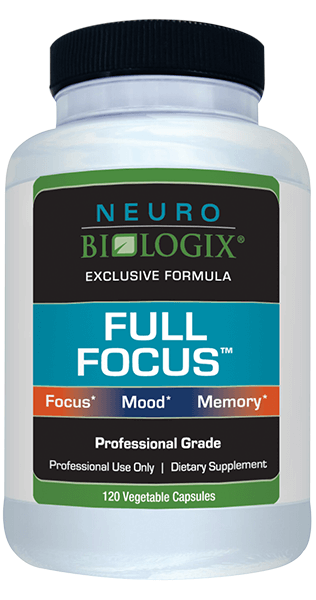 Full Focus | 120 Capsules | Neurobiologix
NeuroBiologix
NB732OTP
Overview

Description

Supplement Facts

Usage Guide
Full Focus™ consists of 12 ingredients carefully formulated by Neurobiologix's advising physicians to work together to maximize each ingredient's full potential and improve vitamin delivery. This processing support formula consists of very integrated ingredients such as Green Coffee Bean extract, SAMe, L-Taurine, L-Methionine and other important ingredients for improved brain performance, mood and memory. This exclusive formula created by leading Neurologist, Kendal Stewart, M.D.
✓ We're Here To Help!  Tel - 0345 60 61 301 
✓ FREE UK SHIPPING On all orders over £30!
✓ 5* Reviews Our Customers Love Us!
✓ Same Day shipping on orders placed before 1pm
This product was designed and may assist with:
Attention and Concentration Levels
Boost Cognition and Motor Activity Skills
Improve Visual Speed and Accuracy
Improve Learning and Organization
Support Methylation Process
Improve Brain Performance
Stabilize Behavior
Improve Mood
Features: S-Adenosylmethionine (SAMe) is a naturally-occurring compound that is found in almost every tissue and fluid in the body. It is involved in many important processes. SAMe plays a role in the immune system, maintains cell membranes, and helps produce and break down brain chemicals, such as serotonin adn melatonin. It works with vitamin B12 and folate (vitamin B9). Being deficient in either vitamin B12 or folate may reduce levels of SAMe in your body. SAMe is not found in food. It is produced by the body from ATP and the amino acid methionine. (ATP serves as the major energy source for cells throughout the body).1
Consuming Green Coffee Bean Extract on a regular basis may improve or enhance brain activity greatly leading to better concentration and attention span. Increased attention span helps in boosting memory power thereby empowering you with outstanding ability to recall and recollect events, facts, dates and occasions with greater ease. Research shows that green coffee beans have the ability to enhance learning abilities and analytic reasoning skills. Better cognitive thinking, reasoning, spatial and abstract reasoning are some of the outcomes of consuming green coffee bean extracts on a daily basis.*
Green coffee bean extract is not a stimulant. It doesn't make you jittery and nervous and raise your heart rate like roasted coffee or ephedra. In fact, the green coffee bean has actually been shown in some studies to help lower blood pressure while still boosting metabolism.* L-Methionine is an essential free-form amino acid. It contributes to the synthesis of S-adenosyl-Lmethionine (SAMe), which is necessary for normal brain function, and L-cysteine, which is a component of glutathione, an important antioxidant molecule in the body. It is also a transporter of the antioxidant mineral selenium. 
Supplement Facts

Serving Size: 3 Capsules

Servings Per Container: 40



Amount Per Serving
%DV


Green Coffee Bean Extract
300 mg
*


L-Tyrosine
300 mg
*


Inositol Hexaniconotinate
200 mg
*


Choline Citrate
100 mg
*


SAM-e (S-Adenosyl Methionine)
50 mg
*


L-Methionine
350 mg
*


L-Taurine
400 mg
*


Trimethylglycine (TMG)
500 mg
*


Vitamin C
167 mg
278%


Magnesium Ascorbate
6 mg
1.5%


Calcium Ascorbate
9 mg
1%


Bacopa Monnieri (45% baccosides)
150 mg
*


*Daily value (DV) not established
Capsule may be broken open and powder mixed in beverage of choice.
Capsule may be broken open and powder mixed in beverage of choice.
Suggested Use: Adults take 3 capsules in AM  or as directed by their healthcare practitioner. May be taken with our without food.
Storage: Store in a cool, dry place.
Other Ingredients: Vegetable cellulose (capsule), natural orange flavour, microcrystalline cellulose, stevia, ascorbyl palmitate, silicon dioxide.