Overview

Product Description

Ingredients

Warnings

Dosage
GCO is formulated with a unique combination of nutrients, herbs, and Carbon Technology that help balance existing healthy blood sugar levels. GCO also steps in to support proper and effective metabolism. Additionally, these plant ingredients promote cardiovascular, cellular, cognitive, and digestive health.

What Is Carbon Technology?

Carbon Technology is a proprietary blend of humic and fulvic acids, polysaccharides, and polyelectrolytes. These ingredients work together to support the body's ability to bind and remove unwanted elements and repair cellular damage.

When combined with other ingredients, Carbon Technology supports their optimal delivery and absorption by protecting them from being digested by stomach acid.
✓ We're Here To Help!  0345 60 61 301 Mon-Fri (10am-4pm)
✓ FREE UK SHIPPING ON ALL ORDERS OVER £30!
✓ 5* Reviews Our Customers Love Us!
✓ Same Day shipping on orders placed before 1pm
Gluco Optimizer may behave similarly to Insulin-like growth factor (IGF-1), a key hormone essential to optimal wellness that naturally decreases with aging and chronic stress. IGF-1 reduces inflammation, supports immunity, and aids in digestion, energy production, muscle growth, and blood sugar metabolism. 
This product contains a proprietary blend of herbs, plus fulvic acid extracts which protect the herbs from damage and drive the nutrients to your cells quickly. During years of product development, these ingredients were precisely formulated in the needed proportions. Altering these ratios would render Gluco Optimizer less effective. 
Upon introducing Gluco Optimizer, allow about 3-4 weeks for the body to adjust to the product and experience optimal benefits 
Key Benefits 
• Supports blood sugar balance 
• Can improve cognitive mental capacity 
• Aids in digestion •
 Promotes healthy cellular function •
 Helps to protect against heart disease 
• Supports increased muscle mass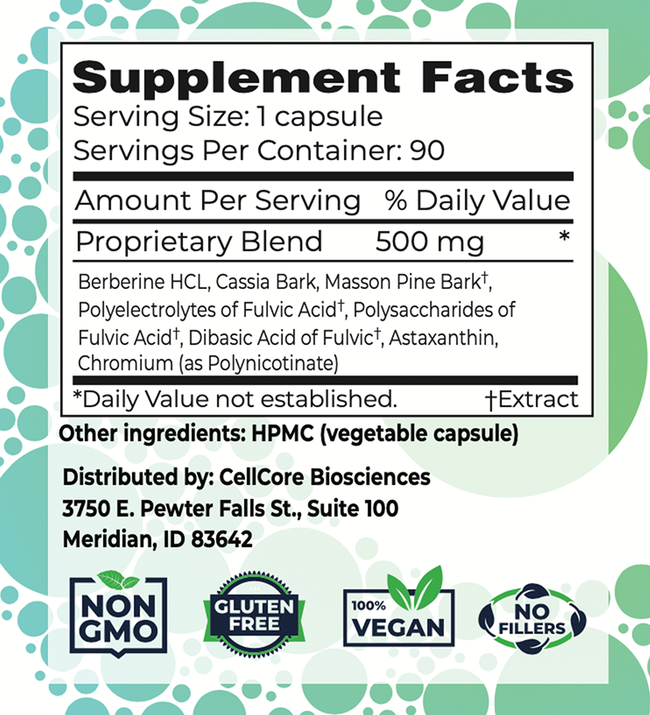 ARE THERE ANY POTENTIAL SIDE EFFECTS I SHOULD BE AWARE OF?
Berberine may interact with macrolide antibiotics, including azithromycin and clarithromycin. Always consult with your healthcare practitioner before adding any new supplements to your routine — especially if you're currently on macrolide antibiotics or diabetic medication.


Berberine may also cause mild gastrointestinal discomfort at high doses, so that's something to be mindful of if you increase the dose you're taking of GCO.
Warnings:
Store in a cool, dry place. 
Keep out the reach of children. 
Standard
Take 1 capsule twice daily before meals or as otherwise directed by a healthcare practitioner.
Aggressive
Take 2 capsules twice daily before meals or as otherwise directed by your healthcare practitioner.
Sensitive
Reduce dosage to 1 capsule daily before a meal.
Toddler Under 50 lbs.
Under 50 lbs. This product is not recommended for young children.
Child Between 50 - 125 lbs
Between 50 - 125 lbs. For children 14 and under, consult a qualified physician.