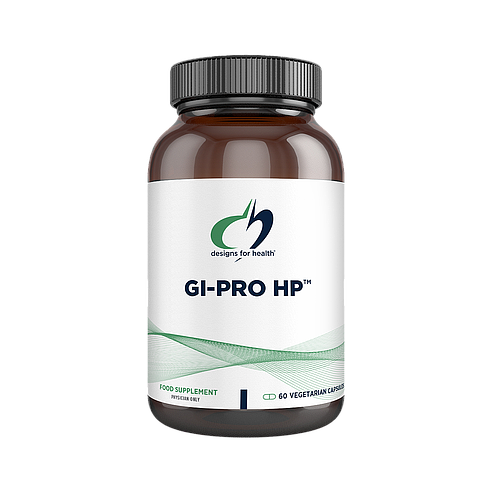 GI-Pro HP (Gastromend HP) 60 Capsule | Designs for Health
Designs for Health
GHM060
Product Description

Supplement Facts
GI-Pro HP (GastroMend-HP™) from Designs For Health is a blend of botanical extracts, all of which support a healthy gastric microbial balance and help maintain a healthy gastric mucosa. This formula may be helpful for occasional heartburn, bloating or upset stomach.
Made with non-GMO ingredients.
As a dietary supplement' take four capsules per day between meals' or as directed by your healthcare practitioner (divided dosing recommended).
✓ We're Here To Help!  0345 60 61 301 Mon-Fri (10am-4pm)
✓ FREE UK SHIPPING ON ALL ORDERS OVER £30!
✓ 5* Reviews Our Customers Love Us!
✓ Same Day shipping on orders placed before 1pm
Supplement Facts

Serving Size: 4 Capsules
Servings Per Container: 15

 

Amount Per Serving

%Daily Value*

Vitamin C (As Ascorbic Acid)

500 mg

833%

Deglycyrrhizinated Licorice (DGL) (Glycyrrhiza glabra) (Root)

1.5 g

*

Mastic Gum (Pistacia lentiscus) (Sap Tears) 

1 g

*

Methylmethionine Sulfonium Chloride (""Vitamin U"")

200 mg

*

Zinc Carnosine

75 mg

*

*Daily Value not established.
Other Ingredients - 
Capsule: Cellulose, Stabilisers: Diacalcium Phospahte, Triacalcium Phospahte, Anti-Caking agents: Magnesium Stearate, Silicon Dioxide