Description

Ingredients

Usage Guide
50 mg of L-Glutathione Per Pump!
Enhancing the Immune System - Your bodies' immune activity, involving unimpeded multiplication of lymphocytes and antibody production, requires maintenance of normal levels of glutathione inside the lymphocytes.

Antioxidant and Free Radical Scavenger - Glutathione plays a central protective role against the damaging effects of bacteria, viruses, pollutants, and free radicals.

Regulator of Other Antioxidants - Without glutathione, other important antioxidants such as vitamins C and E cannot do their job adequately to protect your body against disease.

A Detoxifying Agent - Another major function of glutathione is in the detoxification of foreign chemical compounds such as carcinogens and harmful metabolites.
As a solution, NeuroBiologix's unique liposome-mediated delivery system is a glutathione cream with supporting raw materials and co-factors involved in the methylation process needed to enhance the efficacy of the glutathione, especially of heavy metals. Glutathione is a tripeptide found in all of our cells. In good health, glutathione levels are high; in every condition of poor health glutathione levels are low. As homocysteine is broken down in the methylation process, glutathione levels increase. Glutathione is the master antioxidant (scavenging free radicals), master anti-inflammatory, and master detoxifier.
✓ We're Here To Help!  0345 60 61 301 Mon-Fri (10am-4pm)
✓ FREE UK SHIPPING ON ALL ORDERS OVER £30!
✓ 5* Reviews Our Customers Love Us!
✓ Same Day shipping on orders placed before 1pm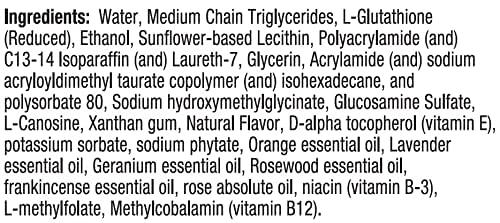 Apply directly over the liver or on the abdomen – from right below the sternum over to the right side.
1 pump = 50 mg

70 PUMPS PER BOTTLE
For children 2-11 use 1/2 to 1 pump. For children 12 and up 1-2 pumps.
Adults 2-3 pumps over the liver or may be applied on a thin skin area without hair or as directed by your healthcare practitioner.