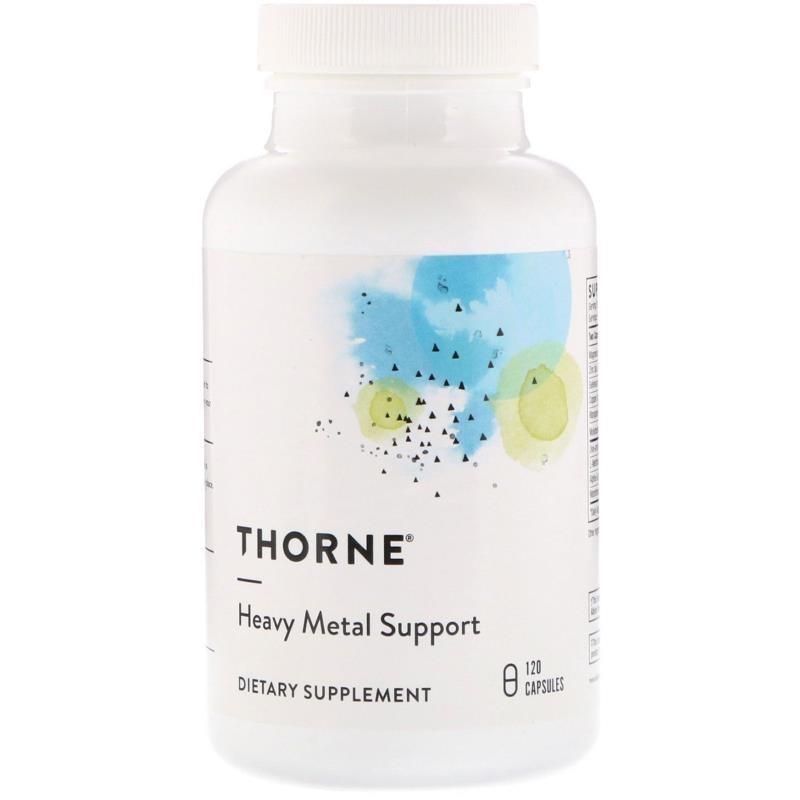 Heavy Metal Support | 120 Caps | Thorne Research
Thorne Research
TRSF795
Product Description

Supplement Facts
Used as an adjunct to DMSA and Basic Detox Nutrients, Heavy Metal Support provides nutrients needed to assist in maintaining the normal balance of metals and minerals in the body. Heavy Metal Support, as well as other supplements containing minerals (such as Basic Detox Nutrients) should be used on the days that DMSA is not supplemented.
Magnesium is included to replenish the magnesium typically needed during detoxification. Because manganese, copper, and molybdenum may also be needed, they are included in Heavy Metal Support to supplement mineral levels. Zinc increases the production of metallothionein, which helps protect the kidneys. Both selenium and alpha-lipoic acid increase levels of the important detoxification antioxidant glutathione.
essential nutrients for detoxification support
use as an adjunct with other detox support products
contains important kidney-protective nutrients
helps replenish minerals lost from detoxification
✓ We're Here To Help!  0345 60 61 301 Mon-Fri (10am-4pm)
✓ FREE UK SHIPPING ON ALL ORDERS OVER £30!
✓ 5* Reviews Our Customers Love Us!
✓ Same Day shipping on orders placed before 1pm
Brand

Thorne Research

Size

120 Vegetarian Capsules

Recommended Dosage

Take 2 capsules two to three times daily or as recommended by a health-care practitioner.

Do not exceed recommended daily dose.

Supplements are not a substitute for a healthy balanced diet.

Ingredients

| | | |
| --- | --- | --- |
|  Serving Size: Two Capsules     | Per Serving | %NRV |
|  Magnesium† | 75mg |  2 |
|  Zinc | 15mg |  150 |
|  Copper | 1mg |  100 |
|  Manganese +1 | 15mg |  750 |
|  Selenium | 75µg |  136 |
|  Molybdenum†† | 15µg |   30 |
|  Uva-ursi | 200mg |     * |
|  L-Methionine | 150mg |     * |
|  Alpha Lipoic Acid | 75mg |     * |
|  Marshmallow | 75mg |     * |

 

NRV = Nutrient Reference Value

%NRV = Percent Nutrient Reference Value

*%NRV = Percent Nutrient Reference Value not established.

Free From

This product does not contain wheat, gluten, corn, yeast, soy, egg, dairy products, or artificial colours, artificial sweeteners, or artificial flavours. This product also does not contain lactose, palmitic acid, magnesium stearate, or stearic acid.

Warnings

ALLERGY WARNING
This product is contraindicated in an individual with a history of hypersensitivity to any of its ingredients.

PREGNANCY
If pregnant, consult your health-care practitioner before using this product.

INTERACTIONS
There are no known adverse interactions or contraindications at publication date.

ADDITIONAL WARNINGS
Gas, bloating, or diarrhea may occur in some individuals taking magnesium supplements. This can occur at varying amounts depending on the individual and resolves when the amount is reduced

TAMPER EVIDENT:
Use only if bottle is sealed.
Store tightly sealed in a cool, dry place.

+1 - Long term intake of  this amount of manganese may lead to muscle pain and fatigue


Other Ingredients

Anti-caking Agent: Silicon Dioxide. Leucine. Hypromellose (derived from cellulose) capsule. Magnesium (as Albion® DiMagnesium Malate)†, Zinc (as Zinc Picolinate), Selenium (as L-Selenomethionine), Copper (as Copper Picolinate), Manganese (as Manganese Picolinate), Molybdenum (as TRAACS® Molybdenum Glycinate Chelate)††, Uva-Ursi extract (leaf) (Arctostaphylos uva-ursi), L-Methionine, Alpha-Lipoic-Acid, Marshmallow extract (root) (Althaea officinalis).

† This product uses Albion's DiMagnesium Malate. Albion is a registered trademark of Albion International, Inc.

†† This product uses Albion's TRAACS® Molybdenum Glycinate Chelate. TRAACS is a registered trademark of Albion International, Inc.

Arctostaphylos PE 4:1. Althaea PE 4:1.