Product Description

Supplement Facts

Usage Guide
Ionic Fulvic Acid is a rich, concentrated liquid dietary supplement that provides 250mg of fulvic acid solution per serving, plus concentrated, full-spectrum ionic trace minerals. Fulvic acid may help support and maintain healthy functions in the body, including the following: digestion, pH balance, energy production, hydration, cellular integrity, enzyme activity, muscle endurance and stamina.
Ionic Single Minerals from Trace Minerals Research combines high quality single mineral ingredients and over 72 trace minerals and elements from ConcenTrace in a unique new proprietary process. This unique blend gives the body the type of minerals that it readily recognizes and absorbs fast because of its liquid ionic state.
✓ We're Here To Help!  0345 60 61 301 Mon-Fri (10am-4pm)
✓ FREE UK SHIPPING ON ALL ORDERS OVER £30!
✓ 5* Reviews Our Customers Love Us!
✓ Same Day shipping on orders placed before 1pm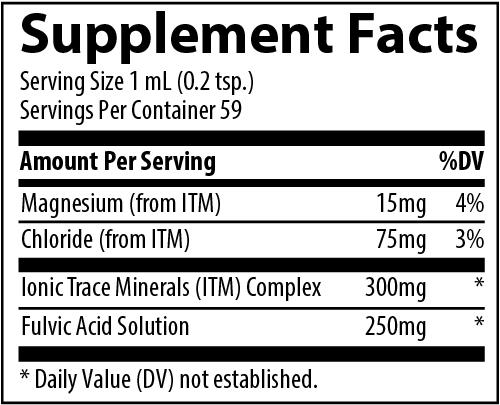 INGREDIENTS
Purified water, Non-GMO citric acid, potassium sorbate (for freshness).
ALLERGEN INFO
NO KNOWN ALLERGENS. GLUTEN FREE. VEGAN . NON GMO
SUGGESTED USE
SHAKE WELL. Using the metered dropper, take 1mL daily with juice or food to mask the concentrated mineral flavor. Do not refrigerate.
59 servings per bottle