Product Description

Supplement Facts
Vitamin C + Ionic Zinc is a concentrated liquid that provides maximum support to the immune system and protection for the cells against roaming free radicals. The balanced liquid form allows for variable dosing.
SUGGESTED USE
SHAKE WELL. CONCENTRATED. Using the metered dropper, take 0.5-2mL daily. Due to the concentrated nature of this product, dilute in juice or food to mask the concentrated mineral flavour. We recommend spreading the serving size throughout the day and taking it on a full stomach. DO NOT REFRIGERATE.
‍
✓ We're Here To Help!  0345 60 61 301 Mon-Fri (10am-4pm)
✓ FREE UK SHIPPING ON ALL ORDERS OVER £30!
✓ 5* Reviews Our Customers Love Us!
✓ Same Day shipping on orders placed before 1pm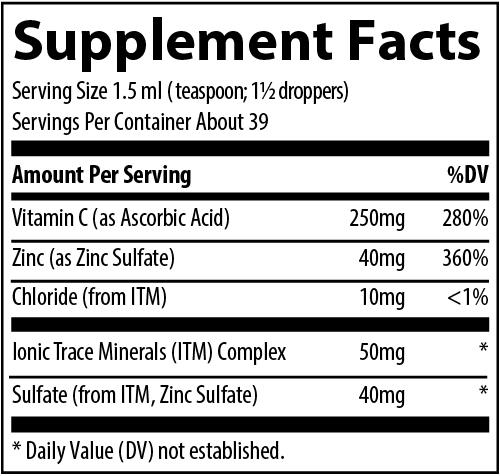 OTHER INGREDIENTS
Purified water, potassium sorbate (for freshness), Non-GMO citric acid.
ALLERGENS
NO KNOWN ALLERGENS. GLUTEN FREE.