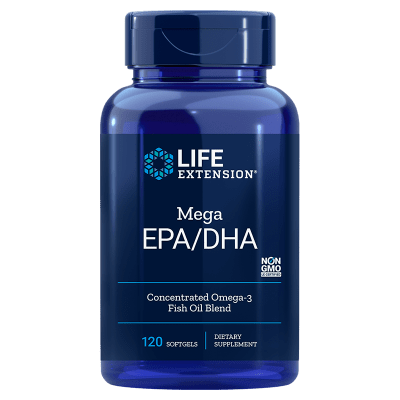 Life Extension - Mega EPA/DHA Foundational Omega-3 120 soft gels
Life Extension
LE01937
Product Description

Supplement Facts

Dosage and Use
Use the EPA and DHA in Omega-3 to help satisfy the body's need for these important fatty acids. EPA and DHA promote cardiovascular and brain health and help inhibit inflammatory factors.
Why it Works:
Your body needs fatty acids to survive and it is able to make all but two of them: linoleic acid (LA), in the omega-6 family, and alpha-linolenic acid (ALA) which is in the omega-3 family. These two fatty acids must be supplied by the diet and therefore they are considered essential fatty acids (EFAs).
Omega-3 oils contain highly beneficial eicosapentaenoic acid (EPA) and docosahexaenoic acid (DHA), which are usually lacking in the typical Western diet. In addition,  EPA and DHA synthesis from ALA may be insufficient under certain conditions and for most people that consume Western-styled diets. With Omega-3 you can get your daily requirements for these critical fatty acids fulfilled. Omega-3 contains twice as much EPA and DHA as most conventional, commercially available fish oil capsules, which means that you will have a much higher potency of EPA/DHA in this product, compared to other conventional products that also contain EPA and DHA. Furthermore, EPA and DHA can help diminish inflammation.
The Science Behind the Product:
Omega-3 oils contain eicosapentaenoic acid (EPA) and docosahexaenoic acid (DHA), which are usually lacking in the typical Western diet.
Studies report that the Mediterranean diet, rich in omega-3 fatty acids, monounsaturated fatty acids such as that found in olive oil, and antioxidant-rich fruits, vegetables, and herbs, is linked to increased lifespan [2-10]. Other studies report that omega-3's is important in cardiovascular health [11-13].
Scientists and doctors report that a proper intake of omega-3 oils is vital to maintaining good health [14]. This statement is based on many animal and people studies which have presented that omega-3 oils improve brain function, reduce inflammatory factors 14].
Studies have shown that EPA and DHA activate peroxisome proliferator-activated receptor (PPARs) which in turn inhibit protein complex known as nuclear factor-kappa b (NF-kb) [14]. NF-kb is the main transcription system that activates inflammation [14]. A proper intake of both EPA and DHA, therefore, supports a healthy inflammatory response.  [14].
Supplement Facts
Serving Size 2 softgels

Servings Per Container 60

Amount Per Serving

Calories

20

Total Fat

2 g

Vitamin E (as D-alpha tocopherol)

2.7 mcg

Fish Oil Concentrate

2000 mg

Yielding:

 

EPA (eicosapentaenoic acid)

720 mg

DHA (docosahexaenoic acid)

480 mg

Other ingredients: highly refined fish oil concentrate (Anchovy), gelatin, glycerin, purified water, caramel color, natural flavor, mixed tocopherols, rosemary extract, sunflower oil.

Non-GMO

Contains fish
Dosage and Use
Take two (2) softgels one to two times daily with meals, or as recommended by a healthcare practitioner.
Caution
If you are taking anti-coagulant or anti-platelet medications, or have a bleeding disorder, consult your healthcare provider before taking this product.
Warnings
KEEP OUT OF REACH OF CHILDREN.
DO NOT EXCEED RECOMMENDED DOSE.
Do not purchase if outer seal is broken or damaged.
 If you are undergoing treatment for a medical condition or if you are pregnant or lactating, please consult with your medical practitioner first.
A food supplement should not be used as a substitute for a varied and balanced diet and a healthy lifestyle. Store tightly closed in a cool and dry place.