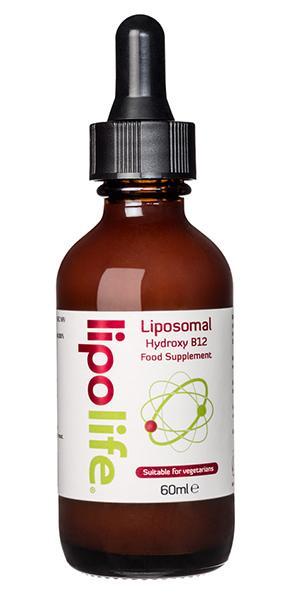 Lipolife Hydroxy/Hydroxocobalamin Vitamin B12 SF (Vegan) - 60ml
Lipolife®
LIPOB12
Lipolife Liposomal B12 uses micro particle technology to deliver Vitamin B12 directly to the cells that need it. 
Lipolife Vitamin B12 has 1000mcg Vitamin B12 Hydroxocobalamin per serving.


Lipolife Vitamin B12 is a great way for those lacking in Vitamin B12 to supplement.
✓ We're Here To Help!  0345 60 61 301 Mon-Fri (10am-4pm)
✓ FREE UK SHIPPING ON ALL ORDERS OVER £30!
✓ 5* Reviews Our Customers Love Us!
Ingredients:
Vitamin B12 Hydroxocobalamin Phosphatidylcholine (derived from non GMO sunflower lecithin), Water, Xylitol, Glycerol, Potassium Sorbate (preservative), Vitamin E (anti-oxidant), natural apricot and vanilla flavouring.

Nutrient Information per serving (1ml)
Vitamin B12 Hydroxocobalamin 1000mcg
Phosphatidylcholine 100mg<
Suitable for vegans - gluten free
Take one measured pipette daily or as recommend by your healthcare professional.
Shake before use.
Once opened, store refrigerated and use within 2 months.