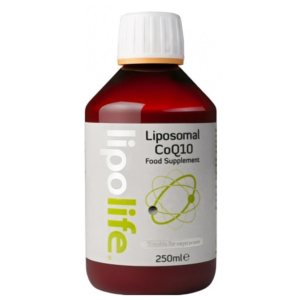 Lipolife CoQ10 250 ml Liposomal CoEnzymeQ10
Lipolife®
LIPOCOQ10
LIPOLIFE LIPOSOMAL Q10 CoQ10 - 250ml
Lipolife liposomal CoQ10 uses micro Particle technology for optimum absorption directly to your cells
Lipolife CoQ10 delivers 200 mg Coenzyme Q10 (CoQ10) per 5ml serving
Non GMO Sunflower Lecithin is used in Lipolife CoQ10 and it is suitable for vegans and Gluten free
✓ We're Here To Help!  0345 60 61 301 Mon-Fri (10am-4pm)
✓ FREE UK SHIPPING ON ALL ORDERS OVER £30!
✓ 5* Reviews Our Customers Love Us!
Per 5 ml serving 
Coenzyme Q10 (CoQ10) 200 mg 
Phosphatidylcholine 450 mg 
Other ingredients
Lecithin Extract, Water, Glycerol, Purified Sesame Oil, Potassium Sorbate (preservative), Vitamin E (antioxidant), Citric Acid.
Allergy information
This product contains ingredients from Lecithin from organic, non GMO sunflower seed.
The product is suitable for vegans and free of corn, yeast, gluten and rice. 
CoQ10 is known as the most efficient manner to protect the skin from lipid peroxidation and helping the skin combat the resulting damage. CoQ10 has at least three important roles in the body. It is part of the inner membrane of the mitochondria, which is the power station of the cells. It is also involved in the formulation of the energy-storing adenosine tri-phosphate (ATP) in the citric acid cycle. Thirdly, CoQ10 is an antioxidant. It helps neutralize harmful free radicals, which is a key function in prevention of premature aging.
Various factors, such as aging, stress and some medications, can lower the levels of CoQ10 in the body. As a result, the ability of cells to withstand stress and regenerate declines. Unfortunately, the levels of CoQ10 in the body almost inevitably decline with age. In fact, CoQ10 is regarded as one of the most accurate biomarkers of aging since its decline correlates so well with the aging process. In some studies, rodents treated with supplemental CoQ10 lived up to 30 percent longer than their untreated counterparts. In most people over thirty, levels of CoQ10 in the skin are below optimum, resulting in lesser ability to produce collagen, elastin and other important skin molecules. CoQ10-depleted skin is more prone to damage by free radicals, which are particularly abundant in the skin since it is exposed to the elements.