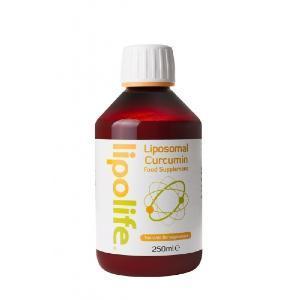 Lipolife Curcumin C3 Liposomal Complex
Lipolife®
LIPOCUR
Curcumin has been used as an herbal remedy in China and India for centuries. Curcumin is now receiving increased attention for its nutritional value. 
LIPOLIFE LIPOSOMAL CURCUMIN 250ml - LIPOLIFE
170mg per 5ml teaspoon

50 servings per 250ml bottle
Lipolife Curcumin uses micro Particle technology for optimum absorption directly to your cells
✓ We're Here To Help!  0345 60 61 301 Mon-Fri (10am-4pm)
✓ FREE UK SHIPPING ON ALL ORDERS OVER £30!
✓ 5* Reviews Our Customers Love Us!
Product information
This product has been developed and manufactured in a HACCP registered European laboratory using only European sourced components. Special techniques have been used to ensure the stability and efficacy of the product.
Per 5 ml serving 
Curcumin: 170 mg 
(C3 Complex by Sabinsa) 95% Curcuminoids
Phosphatidyl Choline 500 mg Non GMO Soy derived 
Other ingredients
Lecithin, Water, Purified Sesame Oil, Vitamin E (antioxidant), Potassium Sorbate (preservative) Traces of Ethanol and Glycerol
- Suitable for Vegans 
Directions
Shake before use. Take 0.5 - 1 teaspoon or more per day as recommended by your health care professional.
Keep refrigerated after opening. 
Modern research has shown that curcumin can help reduce inflammation caused by many chronic degenerative diseases. 
As curcumin does not dissolve well in water, this liposomal formula provides a more efficient and effective way to benefit from the qualities of curcumin.
Liposomal Curcumin is recommended for anyone from a healthy adult to one who is nutritionally deficient or who might have difficulty consuming a larger dosage of conventional supplements.