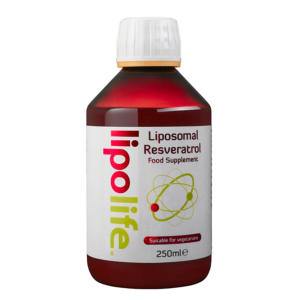 Lipolife Resveratrol SF 250ml - Liposomal
Lipolife®
LIPORES
LIPOLIFE RESVERATROL 250ML
Liposomal Lipolife Resveratrol is a giant leap forward in creating a product that could have monumental benefit to humanity. In our industry, we have started the "horsepower" race in which everyone tries to discover new products and get the jump on the market - but the liposomal delivery system is the only real advance in nutrient absorption in decades!
Lipolife Resveratrol delivered directly into your cell.
Lipolife Resveratrol uses micro Particle technology for optimum absorption.
Delivers 200mg Trans-Resveratrol per 5ml serving
✓ We're Here To Help!  0345 60 61 301 Mon-Fri (10am-4pm)
✓ FREE UK SHIPPING ON ALL ORDERS OVER £30!
✓ 5* Reviews Our Customers Love Us!
If you want to read some miracle stories about an herb look up resveratrol and read the amazing things researchers are saying about this herb. It started with the many correlative studies on the benefits of red wine on first heart disease and then cancer. This led to intensive studies to find the active ingredient in red wine that produced these benefits. The end result was resveratrol, a constituent of the grape skin. Science magazine published an article from the University of Illinois that stated: "resveratrol can inhibit all three stages of chemical carcinogenesis - tumor initiation, promotion and progression". This study was later published in the medical journal Lancet. One should not confuse this concentrate from grape skins with another concentrate from grape seeds which has a totally other beneficial effect - but interesting enough, both concentrates fall into the greater classification known as bioflavonoids.
Resveratrol also has serious benefits for the heart, it blocks platelet aggregation, which can lead to clots, and it acts to relax the walls of the blood vessels which could have benefit for high blood pressure.
But there is a huge problem with resveratrol - it is absorbed very, very poorly. The average resveratrol available for sale is absorbed at less than 5% and to get the amount of absorbed resveratrol that research found effective, would require the consumption of several pounds of grapes every day. This could play havoc with your blood sugar levels as well as becoming very boring. As a sidebar, new resveratrol research indicates it is "a valuable new strategy for treating insulin resistance and type 2 diabetes".


Per 5ml serving
Trans-Resveratrol
200mg

Other ingredients

Lecithin Extract, Water, Glycerol, Purified Sesame Oil, Potassium Sorbate (preservative), Vitamin E (anti-oxidant), Citric Acid.






Suitable for vegans 

Gluten free 





Allergy information
This product contains ingredients from Lecithin from non GMO organic sunflower seed 
Take one teaspoon (5ml) per day with or without food or as directed by your healthcare practitioner.
Can be diluted in water or juice.
Store in a cool, dry place and refrigerate once opened.
KEEP OUT OF REACH OF CHILDREN