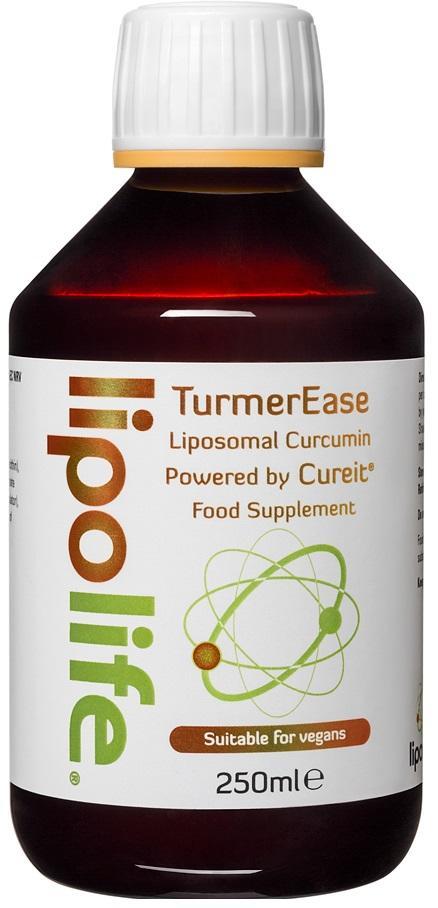 Lipolife Turmerease - Curcumin 250ml
Lipolife®
LIPOTURME
The World's first and only Curcumin brand that offers CNTM (Complete Natural Turmeric Matrix)
LIPOLIFE TURMEREASE CURCUMIN 
Lipolife Turmerease - Curcumin delivered directly into your cell.
Lipolife Turmerease - Curcumin uses micro Particle technology for optimum absorption.
Lipolife Turmerease  delivers 100 mg Curcumin (as Cureit per 5ml serving)
- Cureit - The World's first and only Curcumin brand that offers CNTM (Complete Natural Turmeric Matrix)
✓ We're Here To Help!  0345 60 61 301 Mon-Fri (10am-4pm)
✓ FREE UK SHIPPING ON ALL ORDERS OVER £30!
✓ 5* Reviews Our Customers Love Us!


Per 5ml serving
Curcumin (as Cureit)

Constituent I : Curcuminoids extract from Turmeric in three forms
 Curcumin I (Curcumin); Curcumin II (DemethoxyCurcumin); Curcumin III (Bisdemethoxy Curcumin)
Constituent II : Turmerin, Proteins, Fibre, Minerals and Carbohydrates - water extraction from Turmeric
Constituent III : Essential Oil of Turmeric; composition of essential oils of Curcuma longa


100mg
Other ingredients
Phosphatidylcholine derived from organic, non GMO sunflower lecithin, Water, Vitamin E (antioxidant), Potassium Sorbate (preservative), Xanthum Gum, Xylitol (stabiliser), Stevia (sweetener), traces of Ethanol and Glycerol.
Suitable for vegans
Gluten Free
Directions
Shake before use. 1 teaspoon or more per day as recommended by your health care professional.
Keep refrigerated after opening.
Can be mixed with water or juice to dilute
Suitable for vegans
Gluten Free