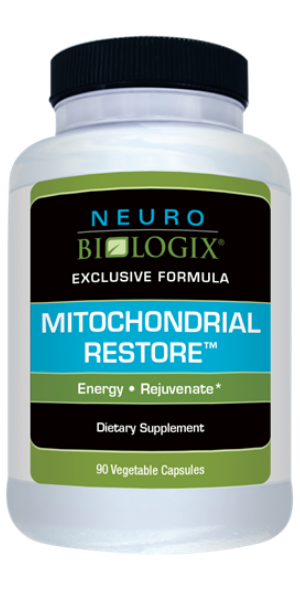 Mitochondrial Restore | 90 Capsules | Neurobiologix
NeuroBiologix
NB13
Overview

Description

Usage Guide

Ingredients
Mitochondrial Restore™ is an exclusive formula for mitochondrial dysfunction treatment created by Dr. Kendal Stewart. It includes the most powerful, scientifically validated and result targeted nutrients available in today's marketplace. This formula is created to restore the functional deficiency in the mitochondria. Neurobiologix's mitochondrial support supplements stand out because they are crafted with the knowledge of experienced industry professionals.
✓ We're Here To Help!  Tel - 0345 60 61 301 
✓ FREE UK SHIPPING On all orders over £30!
✓ 5* Reviews Our Customers Love Us!
✓ Same Day shipping on orders placed before 1pm
Mitochondria are responsible for production of energy (ATP) utilized in proper functioning and healing at the cellular level so it is critical to utilize a focused and targeted mitochondrial support to achieve desired health benefits. This unique formula provides the body with a large variety of super anti-oxidants, minerals, and amino acids known to enhance the functional capability of the mitochondria and assist patients who have mitochondrial dysfunction typically from methylation deficiencies, toxic exposures and poor nutritional delivery.
L-Citrulline 
has been shown to support memory issues, loss of energy, muscle weakness and maintain blood sugar levels. It has been commonly used to increase energy levels.
L-Ornithine 
has been shown in research studies to help boost the body's immune reaction to bacteria and viral activity. There is some evidence that L-Ornithine may be beneficial for recovery from illness and improved athletic performance, particularly
body composition and strength.
An issue or several issues listed below are typically found in patients with acquired mitochondrial weakness:
Neurological Instability, Seizures
Growth Delay
Fatigue / Exercise Intolerance
Delayed Healing
Poor Muscle Tone/Weakness or Motor In-coordination
Developmental Delays/Disabilities
Gastrointestinal Disorders
Immune Weakness
Difficulty Handling Temperature Changes
Unexplained Gastrointestinal Issues
Natural orange flavour in each capsule for those who cannot swallow pills! 
*This product is not intended to diagnose, treat, cure or prevent any disease.
Suggested Use: Adults, take 2-3 capsules per day or as directed by your healthcare professional.
Storage: Store in a cool, dry place.
Other Ingredients: HPMC (vegetable capsule), MCC (microcrystalline cellulose), silicon dioxide, magnesium stearate, stevia leaf extract, natural orange flavour.
Contains No: Wheat, gluten, corn protein, yeast, soy, dairy products, artificial sweeteners, colours, or preservatives.
Supplement Facts

Serving Size: 3 Capsules

Servings Per Container: 30



Amount Per Serving
%DV


Biotin
200 mcg
67%


Zinc (TRAACS®zinc glycinate chelate)
35 mg
233%


Acetyl L-Carnitine
300 mg
*


L-Ornithine
300 mg
*


Alpha Lipoic Acid
200 mg
*


NAC (n-acetyl cysteine)
200 mg
*


Quercetin
200 mg
*


Arginine alpha-ketoglutarate (AAKG)
100 mg
*


L-Citrulline
100 mg
*


L-Methionin
100 mg
*


Resveratrol (Polygonum knotweed, 50% resveratrol)
75 mg
*


Turmeric Extract (95% curcuminoids
50 mg
*


Coenzyme Q10
45 mg
*


*Daily value (DV) not established
All Formulas Meet or Exceed cGMP Quality Standards.