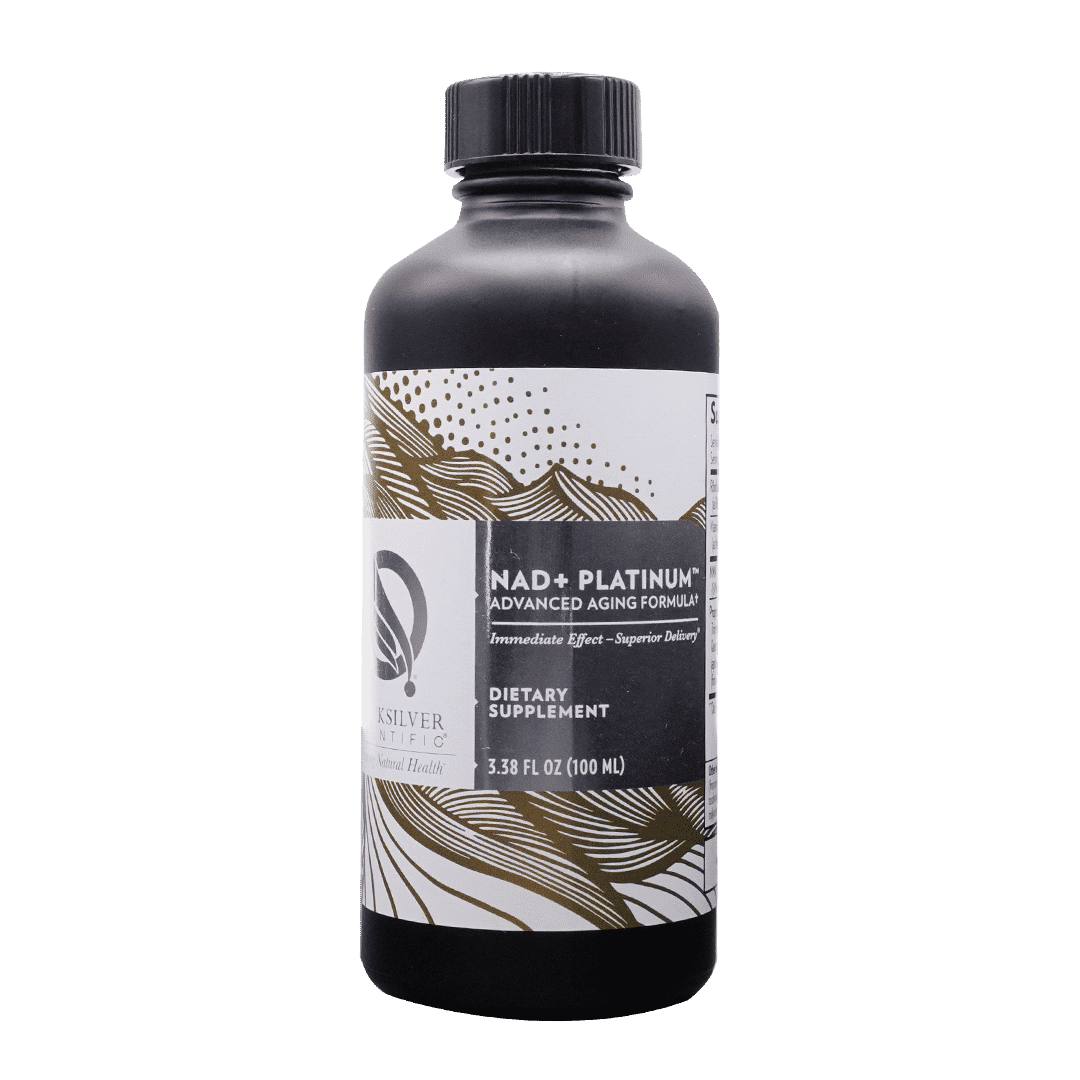 NAD+ Platinum | Quicksilver Scientific | 100ml
QuickSilver Scientific
QSNADPLAT
Product Description

Benefits

Storage Guidelines
Present in every cell in the body and a coenzyme in 500 chemical and biological reactions, NAD+ (nicotinamide adenine dinucleotide) is a critical molecule for energy generation, DNA repair, and cell signaling and survival. Put simply, it's our genetic key to longevity. But bodies age continuously and NAD+ levels naturally decline over a lifetime. Research shows that by age 50 you'll have less than half the NAD+ you had at 20. So what if we could generate sustainable NAD+ now to help maintain the effects of youthful cellular-level energy in the future?
That's what we're doing inside the advanced NAD+ Platinum formula. Because NAD+ production is dependent on other vital and complex chemical processes, the ingredients work together to help stimulate cellular NAD+, healthy methylation, and sirtuin activation while also targeting senescent or "bad" cells that are no longer functioning properly. 
In NAD+ Platinum, we have included highly stable master phytocompounds (quercetin and resveratrol) to help supercharge sirtuins (longevity proteins) and support the actions of NAD+; the precursory compound NMN to advance NAD+ production; and B vitamins to support balanced methylation — the biochemical process that keeps the NAD+ cycle turning.
Quicksilver Delivery Systems® utilizes modern science to unleash the curative power of nature. With the world's most advanced phospholipid delivery systems, Quicksilver Scientific supplements can help to nourish your cells and fortify your body as they deliver their core effective ingredients faster and more efficiently.
✓ We're Here To Help!  0345 60 61 301 Mon-Fri (10am-4pm)
✓ FREE UK SHIPPING ON ALL ORDERS OVER £30!
✓ 5* Reviews Our Customers Love Us!
✓ Same Day shipping on orders placed before 1pm 
Supports NAD+ production and methylation cycles
Helps supercharge sirtuin activation
Supports sustainable energy production
Supports longevity and graceful aging
Supports physical and mental performance
Aids in cardiometabolic health
Quicksilver Scientific NAD+ Gold should be stored in the Fridge.
Whilst this product needs to be kept cool to maintain potency it will maintain potency when exposed to warm temperatures for up to 7 days. If your product arrives warm, it is NOT damaged as it was cold when it left our warehouse. 
We recommend that customers outside of the UK do not select standard shipping for this product.
For best results keep out of direct sunlight.
*This is a refrigerated product and is not eligible for refunds or replacements.