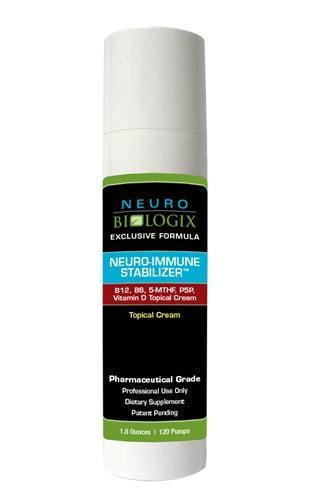 Neuro Immune Stabilizer | Topical Cream | 51ml | NeuroBiologix
NeuroBiologix
NB46OTP
Overview

Description

Ingredients

Usage Guide
A cream that enhances methylation
Supports glutathione production
Supports delivery of B12, B6 vitamins to the nervous and immune systems
✓ We're Here To Help!  0345 60 61 301 Mon-Fri (10am-4pm)
✓ FREE UK SHIPPING ON ALL ORDERS OVER £30!
✓ 5* Reviews Our Customers Love Us!
✓ Same Day shipping on orders placed before 1pm
Features
Such nutrients as Pyridoxal 5-Phosphate (B6) and Vitamin B12 in a methylated form called methylcobalamin (Methyl B12) and hydroxycobalamin (Hydroxy B12) and natural Vitamin D assist the body neurologically and physically.
5-methyltetrahydrofolate (5-MTHF) is the metabolically active form of folic acid. The folic acid found in food has to be cleaved (digested) from protein carriers in order to be absorbed. This process is inefficient in some individuals. Once absorbed, dietary (and supplemental) folic acid has to then undergo several biochemical conversions in the body to become -5-MTHF. Roughly one in three Americans have genetically inefficient enzymes that help create 5-MTHF so the cream assist with supplying the 5-MTHF for optimal help.
The advantage of using a topical cream is that it is delivered immediately into the skin, bypassing any mal-absorption problems of the gastrointestinal tract, which can be a common occurrence when the body is toxic or has gastrointestinal issues. In addition to assisting in detoxification and neuro-immune support, this topical cream is designed to work with the body to assist with oxidative stress, auto-immune diseases and sensory overload.

Active Ingredients:
| | |
| --- | --- |
| 5-MTHF (5-methyltetrahydrofolate) | |
| Vitamin B-12 (as hydroxycobalamin) | |
| Vitamin B-12 (as methylcobalamin) | |
| Vitamin B-6 (as pyridoxal-5'-phosphate) | |
| Vitamin D-3 (natural) | |
Other Ingredients: Water, Aloe (Aloe vera barbadensis) (leaf) juice, propanediol (all natural, petroleum-free), MSM (methylsulfonylmethane), cetyl alcohol, urea, octyl palmitate, triethanolamine, stearic acid (vegetable source), panthenol, PEG-8 stearate, glycerin, polysorbate 65, coconut (Cocos nuciferas), gardenia (Gardenia tahitensis) (flower) extract, sodium hyaluronate, natural vitamin E (d-tocopheryl), TEA-carbomer, orange (Citrus aurantium dulcis) (peel) oil, diazolidinyl urea, iodopropynyl butylcarbamate, grapefruit (Citrus grandis) (peel) oil, grapefruit (Citrus grandis) ( peel) extract.

Storage: 
Keep away from light and heat. Do not store in direct sunlight or temperatures above 90°F. Do not freeze. Product is best when stored between 65 °F and 80°F.
Recomended Application (for external use only):

Maintenance Application: 2 pumps daily (1 pump in the morning and 1 pump 2 hours prior to bedtime) on a hairless area or as directed by your healthcare practitioner. 

Advanced Application: 3 pumps daily (1 pump in the morning, 1 pump at midday, 1 pump 2 hours prior to bedtime).

Do not apply to broken skin. If you have any known allergies, consult your healthcare practitioner before use. If you have any adverse reaction, discontinue use. Do not apply on the same area as other topicals. For children under the age of 3 please consult with your healthcare practitioner.

FOR EXTERNAL USE ONLY