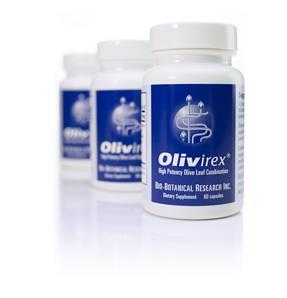 Olivirex® Olive Leaf Combination 60 capsules
Biocidin Botanicals
BIOOLIV
Product Description

Usage Guide
Highest Potency Olive Leaf Extract
Synergistic Blend of Additional Botanicals Assist Detoxification
Olivirex is an innovative formulation combining standardized olive leaf extract with a synergistic blend of botanicals to enhance the broad-spectrum qualities of olive leaf, and support clearance of toxins.
Superior olive leaf combination offers broad-spectrum support.

Highest potency USP grade olive leaf extract available.

18-24% Oleuropein.

Synergistic blend of additional botanicals assist detoxification, which is helpful in decreasing die-off or Herxheimer reaction.

Contains added immune modulators and adaptogens.

May be used in combination with Biocidin to address challenging clinical presentations.

Often combined with Biocidin Throat Spray for seasonal wellness.


✓ We're Here To Help!  0345 60 61 301 Mon-Fri (10am-4pm)
✓ FREE UK SHIPPING ON ALL ORDERS OVER £30!
✓ 5* Reviews Our Customers Love Us!
Olive Leaf extract (organic, minimum 18-24% oleuropein content), 125 mg combination of the following: Garlic (plant), Goldenseal (root), Milk Thistle (seed), St. Johns Wort (plant), Uva Ursi (leaf), American Ginseng (root), Bladderwrack (plant), Cordyceps, Dandelion (root), Noni (dried fruit), White Willow (bark).
Other Ingredients: Rice Flour and Vegetarian Capsule. Certified Organic or wild-crafted sources used whenever possible.