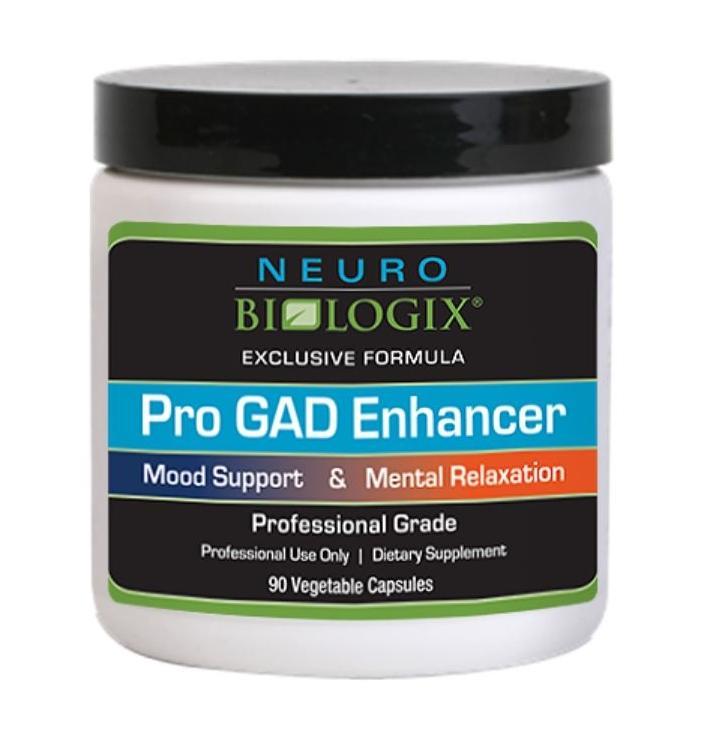 Pro GAD Enhancer | 90 Capsules | NeuroBiologix
NeuroBiologix
NB705OTP
Pro GAD Enhancer, created by a leading neuro-immune specialist was created to assist patients who have difficulty producing adequate amounts of GABA, an important brain neurotransmitter. GABA plays the principal role of reducing excitability throughout the nervous system, as well as, regulation of muscle relaxation. Many patients possess a genetic mutation of GAD (Glutamic Acid Decarboxylase), the primary enzyme that creates GABA. A weakness in the GAD enzyme creates an increased amount of Glutamate, the primary excitatory neurotransmitter of the nervous system, and a relative deficiency of GABA. This imbalance creates an overly stimulated nervous system and traditional GABA should not be used.
✓ We're Here To Help!  Tel - 0345 60 61 301 
✓ FREE UK SHIPPING On all orders over £30!
✓ 5* Reviews Our Customers Love Us!
✓ Same Day shipping on orders placed before 1pm
Directions: Adults take 2 capsules in the AM 30 minutes before or after a meal and if needed 2 capsules in the evening or as recommended by your healthcare practitioner.

Do NOT EXCEED over 2 doses daily.

*This product is not intended to diagnose, treat, cure or prevent any disease.

Caution: Do not use if you are pregnant or breast feeding. Not for use with alcoholic beverages. Excessive use or use with products that cause drowsiness may impair your ability to operate a vehicle or heavy equipment.