Description

Further Information

Supplement Facts

Usage Guide
Liquid Health® Unflavoured Hydrolysed Marine Collagen Powder is a premium pure collagen powder that can be added to juice, hot drinks or food recipes.
Supports and helps promote healthy and younger-looking skin, stronger joints, muscles & bones
KETO & PALEO 
Balances hormones and helps sleep
Supports a healthy gut
Collagen Types 1 & 3 
Liquid Health Marine collagen is extracted from the skin of fish. The collagen is then hydrolysed, which means the long, chains are broken down into shorter chains which are easier for our bodies to absorb through our gut and into our bloodstream. 
✓ We're Here To Help!  0345 60 61 301 Mon-Fri (10am-4pm)
✓ FREE UK SHIPPING ON ALL ORDERS OVER £30!
✓ 5* Reviews Our Customers Love Us!
✓ Same Day shipping on orders placed before 1pm
Collagen is a natural skeletal protein and is one of the body's most abundant components, making up nearly 80% of the body's skin, muscles and connective tissue. It is thought that from the age of 25, your body's collagen levels deplete at a rate of 1.5% per annum. This means that by the age of 35 your body will have lost 15% and by 45, 30%. It is at this stage that you really start to notice a change in your skin's elasticity and texture. 
Why Hydrolysed Marine Collagen?
The percentage of collagen that is actually absorbed into your body when ingested (bioavailability) is critical to the effectiveness of the supplement. Bioavailability largely determines how well any nutrient you ingest works. 
The issue with collagen molecules is that they are enormous, so unless they've been hydrolysed, they are simply too big to be absorbed when ingested, and thus never reach the dermis, which is the underlying layer of the skin where collagen lives. Liquid Health Hydrolysed collagen absorbs quickly into the body and is allowed to make its way to the areas it is needed most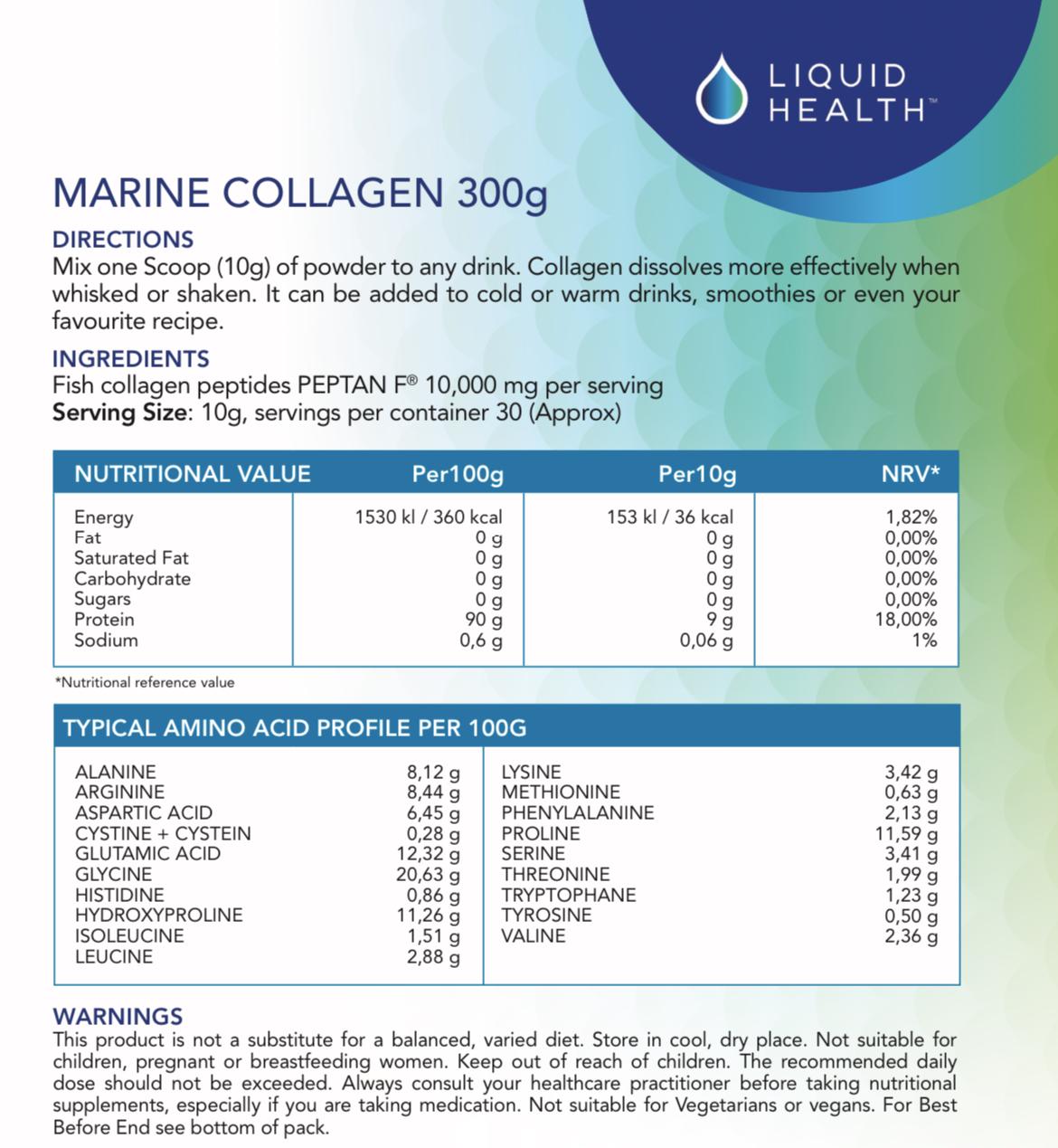 Daily dose: 10g, product contain 30 daily doses
Total net weight: 300g
Instruction for use: Using the provided scoop Mix 10g with water, juice, smoothies, hot drinks or even your favourite recipe. 
Food supplements are not a substitute for a balanced, varied diet. 
Store in cool, dry place.
Not for use by children, pregnant and breastfeeding women. 
Keep out of reach of children. 
The recommended daily dose should not be exceeded.