Description

Features

Ingredients

Usage Guide

How it works
PureHMO Super Prebiotic: HMO is a super prebiotic initially found in mothers' milk, which is beneficial to gut, immune, and cognitive development.
Whole Colostrum Powder: Whole colostrum are non-defatted, non-isolated, and gently dried with all the bioactive nutrients in the pre-milk liquid.
Natural Lactoferrin and IgG:  Colostrum is rich in lactoferrin and immunoglobulin G, which helps fight bad bugs and maintain healthy iron metabolism.
✓ We're Here To Help!  0345 60 61 301 Mon-Fri (10am-4pm)
✓ FREE UK SHIPPING ON ALL ORDERS OVER £30!
✓ 5* Reviews Our Customers Love Us!
✓ Same Day shipping on orders placed before 1pm
Boost Immunity
Concentrated antibodies in colostrum help fight viruses and pathogens.
Rich Nutrients
Colostrum is rich in vitamins, minerals, lactoferrin, and antibody Ig G.
Strengthen Gut Barriers
The bovine colostrum and HMO may stimulate the growth of intestinal cells, strengthen the gut wall, and prevent leaky gut.
Unique HMO + Colostrum Combination
Bovine colostrum is low in milk oligosaccharides. The unique combination of HMO and colostrum provides a perfect immunity boost.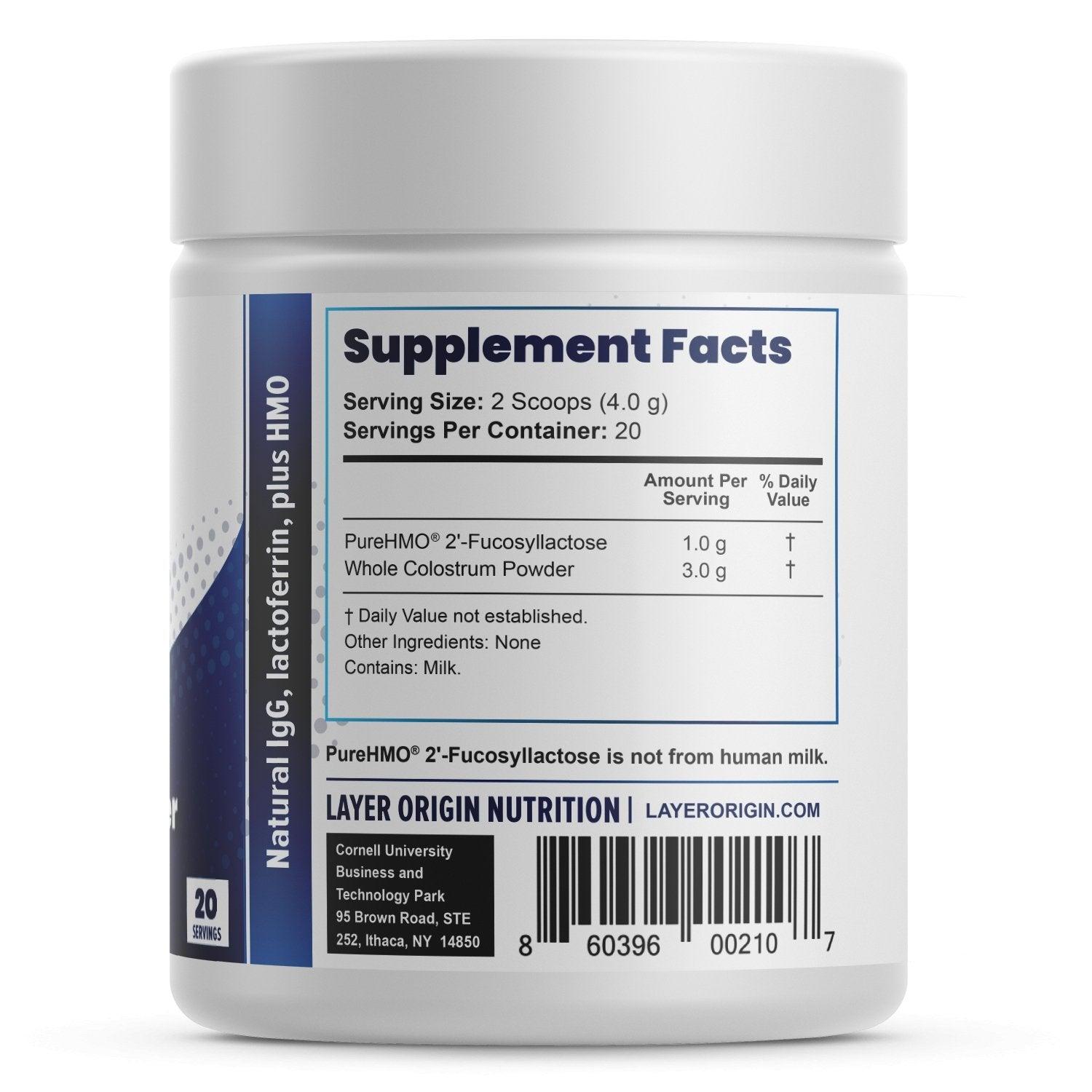 Suggested use:-
For best results, please take 2 Scoops per day or as directed by your healthcare professional.
Do not exceed 6 Scoops per day
Warnings:-
Do not use this product if you are pregnant or breastfeeding or under the age of 18
If you have a medical condition or are taking prescription drugs, consult your physician prior to use
Keep out of reach of children
How It Works
"Colostrum is the first milk produced post-partum by mammals and is compositionally distinct from mature milk. Bovine colostrum has a long history of consumption by humans ... proteins, fats, glycans, minerals, and vitamins are abundant in colostrum, and advances in dairy processing technologies have enabled the advancement of bovine colostrum from relative limitations of a fresh and unprocessed food to a variety of potential applications."