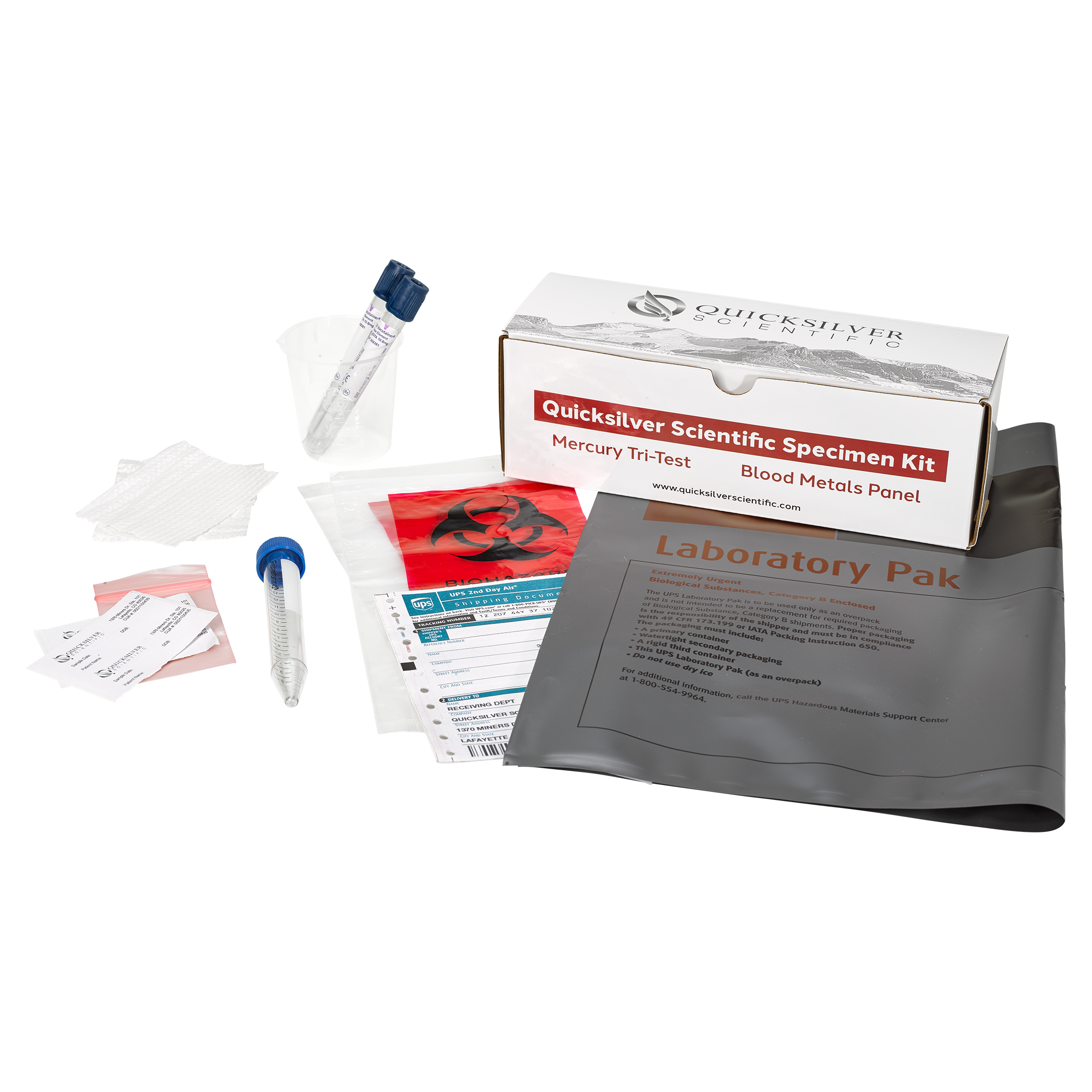 Mercury Tri Test Kit - Quicksilver Scientific - Proactive Healthcare
QuickSilver Scientific
QSMTTEST
Quicksilver Scientifics Tri-Test is the only clinical testing suite that measures both the exposures and excretion abilities for each of the two main forms of mercury we are exposed to. The QS Tri-Test utilizes mercury speciation analysis, a patented advanced technology that separates methyl mercury from inorganic mercury and measures each directly. This technique provides unprecedented information for the healthcare practitioner to assess the patients difficulties with each form of mercury and plan a successful detoxification strategy.
The Analytical Suite and Results Reporting 
The full analytical suite includes three tests: (1) mercury speciation analysis of patients blood, (2) mercury speciation analysis of patients urine, and (3) total mercury analysis of patients hair. Mercury speciation analysis shows 2 forms of mercury: Inorganic mercury (HgII) in blood usually reflects a dental amalgam exposure and its main excretion route is urine. The urine:blood ratio gives an index of excretion efficiency for inorganic mercury. Methylmercury (MeHg) reflects seafood consumption, though some is made in the gut from swallowed amalgam-based mercury. Excretion of methylmercury is reflected in the hair. The hair:blood ratio gives an index of excretion efficiency of methylmercury Our customized reports contain raw and graphical data (sample, right). Each graphic provides references to help practitioners and patients interpret results.
How your Purchase works
Once you have purchased our mercury Tri-Test kit you will have to make arrangements with your GP or a healthcare professional to draw your blood and help prepare your samples, the containers for this are in the kit that you will receive. Once all this has been prepared your samples have to be sent to America, this is done by Fed Ex and will be pre arranged so that it can be sent ASAP. Therefore when you purchase the kit from us you must let us know when you have arranged to get your samples done, we will then email the Fed Ex labels to you the day before for you to print off and give to the driver when he arrives.
You must select your country from the list below (drop down menu) in order to pay the extra for us to send your shipment back to America by FedEx. If you wish to send the kit back yourself please select the default option of the UK. 
N.B If your country is not in the list above please contact us before you purchase the test
PLEASE READ THE INSTRUCTIONS THAT COME WITH YOUR TEST FULLY BEFORE BOOKING YOUR BLOOD DRAW APPOINTMENT
✓ We're Here To Help!  0345 60 61 301 Mon-Fri (10am-4pm)
✓ FREE UK SHIPPING ON ALL ORDERS OVER £30!
✓ 5* Reviews Our Customers Love Us!
✓ Same Day shipping on orders placed before 1pm