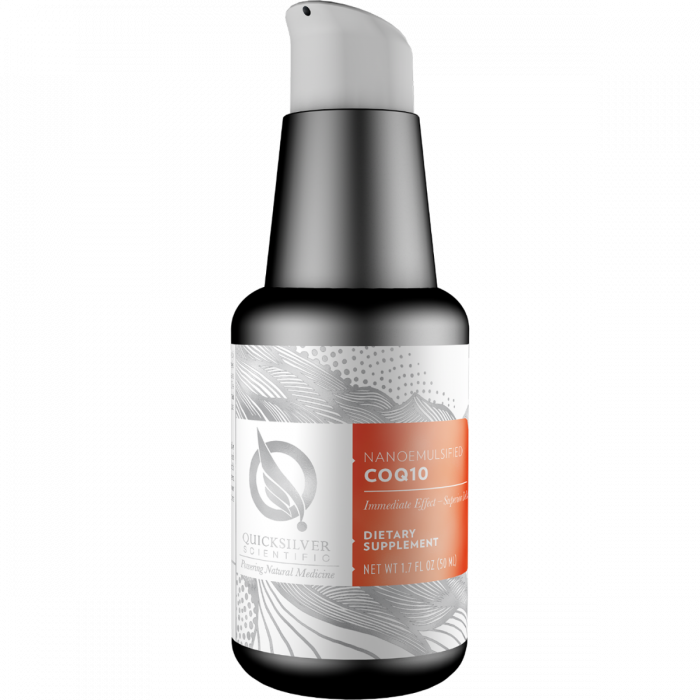 CoQ10 - Quicksilver Scientific - Nanoemulsified - liposomal - 50ml
QuickSilver Scientific
QSCOQ10
Product Description

Storage Guidelines

Supplements Facts

Suggested Use
No mitochondrial supplement has been researched more intensively than CoEnzyme Q10. Its positive effects on the clinical markers of cardiovascular health, normal blood sugar control, and gum health have made it popular in the dietary supplement industry. However, its gastrointestinal absorption is limited, and traditional liposomal encapsulation does not suit this compound.  The innovative chemistries of Quicksilver Scientific have solved this problem, resulting in a CoQ product with power that you feel quickly and clearly.
Each 1 oz Bottle (30ml) contains 50 servings - each serving is 0.5ml which is 3 pumps.
✓ We're Here To Help!  0345 60 61 301 Mon-Fri (10am-4pm)
✓ FREE UK SHIPPING ON ALL ORDERS OVER £30!
✓ 5* Reviews Our Customers Love Us!
Please read the Storage Guidelines tab before ordering this product
Quicksilver Scientific CoQ10 should be stored in the Fridge and used within 30 days of being opened.
Whilst this product needs to be kept cool to maintain potency it will maintain potency when exposed to warm temperatures for up to 7 days. If your product arrives warm, it is NOT damaged as it was cold when it left our warehouse. 
We recommend that customers outside of the UK do not select standard shipping for this product.
For best results keep out of direct sunlight.
Shelf Life unopened is 1 year 
*This is a refrigerated product and is not eligible for refunds or replacements.
Supplement Facts
Serving Size: 1 ml (2 pumps)

Servings Per Container: 50

Amount Per Serving

Coenzyme Q10 

30 mg

Phosphatidylcholine (from purified sunflower seed lecithin)

50 mg

Other ingredients: water, glycerin, ethanol, vitamin E (as d-alpha tocopherol polyethylene glycol 1000 succinate and natural mixed tocopherols), natural citrus oils.
Dosage and Use
Take two pumps twice per day. Hold in mouth for 30 seconds before swallowing.
May be mixed into water. Best taken on an empty stomach.
Refrigerate upon receipt.
Use within 30 days of opening.