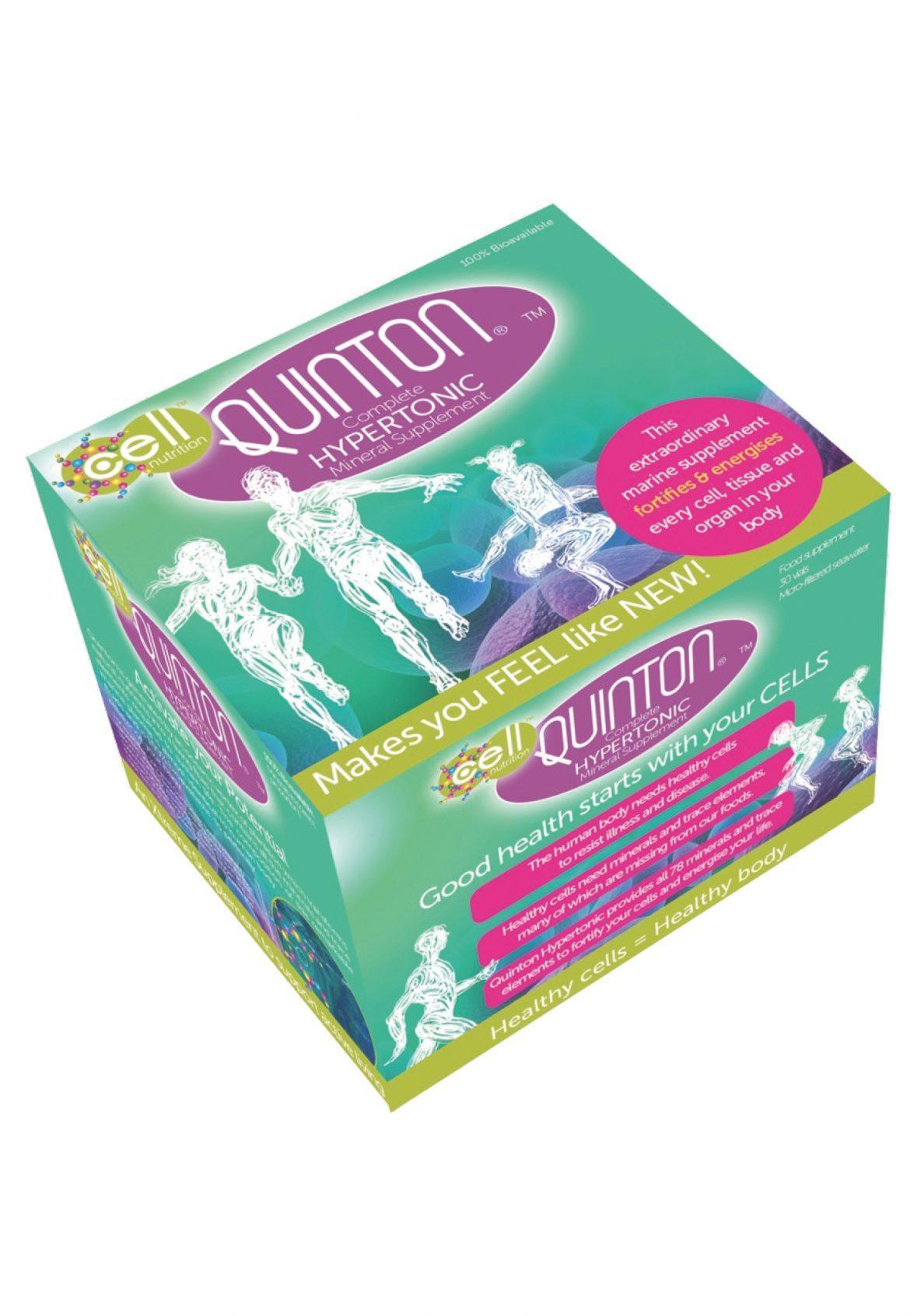 Quinton Hypertonic 30 Ampoules
Quinton®
QUINTONHYP
Quinton Hypertonic is 100% marine plasma that enhances the quality of life for those who live healthy and active lifestyles and want to achieve optimum cellular health. This unique, natural formula nourishes your cells supporting their optimum health. The more concentrated nature of Quinton Hypertonic provides a boost of energy as it enhances glucose metabolism as well as enhancing cellular nutrition. It is therefore beneficial to those prone to fatigue, and those with a busy or stressful lifestyle.
Quinton Hypertonic is a nutritional supplement made from pure, mineral-rich sea water.
It contains all the minerals, trace elements and micronutrients that your cells require in a natural and bio-available form, but at three times the mineral concentration of your blood and extra-cellular fluid.
Quinton Hypertonic provides your body with a more rapid re-mineralisation that people find very energising. It is the ideal support before, during and after any type of physical exercise.
Many people take both Hypertonic and Isotonic forms of Quinton.
Order 3 or more boxes for £36 each 
✓ We're Here To Help!  0345 60 61 301 Mon-Fri (10am-4pm)
✓ FREE UK SHIPPING ON ALL ORDERS OVER £30!
✓ 5* Reviews Our Customers Love Us!
Mineral Rich Sea Water 100%
Each box contains 30 x 10ml vials
No Preservatives
No Sweeteners
No Sugars
Keep glass ampoules  out of reach of young children
To be used as part of a balanced and varied diet and a healthy lifestyle
Maximum daily intake: 6 ampoules.
Do not exceed recommended dietary allowance -RDA-
Mineral rich sea water 100%
Maximum daily intake: 6 vials
Do not exceed recommended dietary allowance 
composition for 60ml - 
Chloride 1.190mg 150%NRV
Magnesium: 70mg 18% NRV (nutrient reference value)
Quinton Hypertonic is a natural nutritional supplement that works with your body. It can be taken in conjunction with other supplements. Please check with your doctor if you are currently taking a prescription medicine.