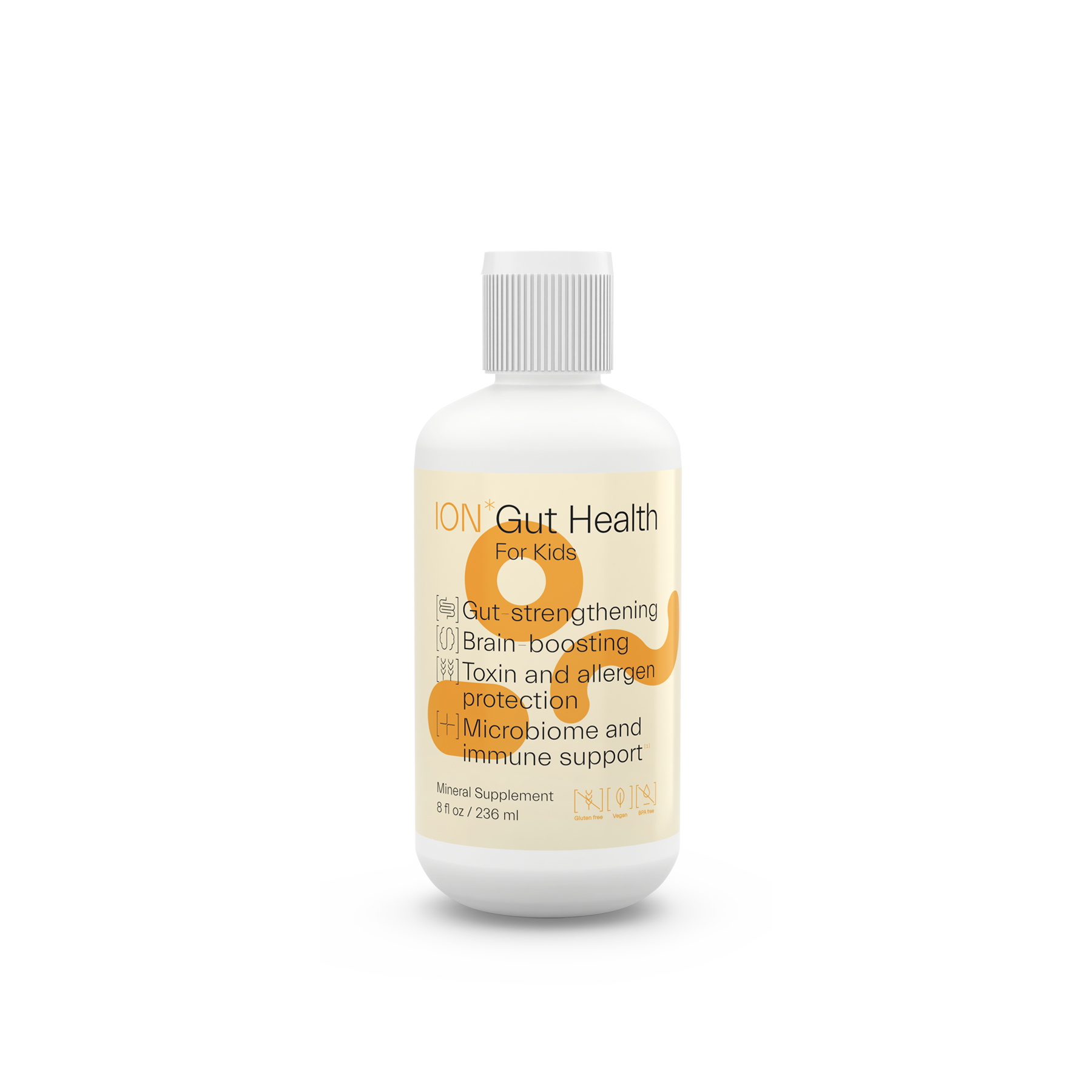 ION* Gut Health for Kids 8 fl oz (formerly Restore) - ION Biome
ION Biome | ION Gut
RESKID
Product Description

Supplements Facts

Suggested Use

Further Information
Perfect for kids!
ION Gut Health is unlike any supplement on the market. Made in the US,
ION Gut Health is a soil-derived, scientifically-backed mineral supplement that has been shown in lab studies to strengthen tight junctions in the gut wall, our firewall against toxins entering the body. Restore helps create a biological environment for good gut bacteria to grow and flourish, to support improvement of overall health.
Complete Well-Being Begins in the Gut
Mineral Supplement
Naturally Gluten-Free
Refrigeration Not Required
BPA-Free
Non-Toxic
Promote Gut Well-Being
Maintaining gut balance is vital to overall health, as much of the body's immune system is in your gut lining. Heavily processed foods, GMOs, gluten, and environmental factors such as herbicides and animal antibiotics reduce the healthy bacteria in your digestive tract. These factors can have an impact on the immune system and overall health.
ION Gut's proprietary Terrahydrite was developed by a team of world renowned scientists and leading physicians to support the integrity of you intestinal walls. This creates a stable environment where good gut bacteria can grow and thrive, helping you to promote immune system function, and supporting optimal well-being.
✓ We're Here To Help!  0345 60 61 301 Mon-Fri (10am-4pm)
✓ FREE UK SHIPPING ON ALL ORDERS OVER £30!
✓ 5* Reviews Our Customers Love Us!
Supplement Facts
Serving Sizes: Initial 5 drops (1/20 tsp) (.25 ml), Under 2 25 drops (1/4 tsp) (1.25 ml), Age 2+ 100 drops (1 tsp) (5 ml)
Servings Per Container: 940, 188, 47
 
Amount Per Serving
%DV
Amount Per Serving
%DV
Amount Per Serving
%DV
Aqueous Humic Substances (Terrahydrite)
7.5 mg
**
37.5 mg
**
150 mg
**
Less than 1% mineral amino acid complexes.
** Daily Value not established.
Begin with five drops once per day. Double usage weekly until maintenance usage of 25 drops (1/4 teaspoon for under age 2) or 100 drops (1 teaspoon for over age 2) 3 times a day.
Shake before use as sediment naturally occurs. To prevent contamination, avoid drinking directly from bottle or cap.
Why  for Kids?
At Team ION Biome, we know that regular, consistent use of ION Gut can help everyone support and strengthen the delicate gut lining, our internal firewall against the outside world. Our kids love ION gut! The fossil record indicates through carbon dating -- and we believe - that the Aqueous Humic Substances of Restore's Terrahydrite come from the rich soils of earth when the dinosaurs roamed -- an ancient resource for our very modern world.
Ingredients May Help To:
Balance Gut Health
Support Respiratory Wellness
Combat Environmental Exposures
Promote Immune Function
Enhance Mental Clarity