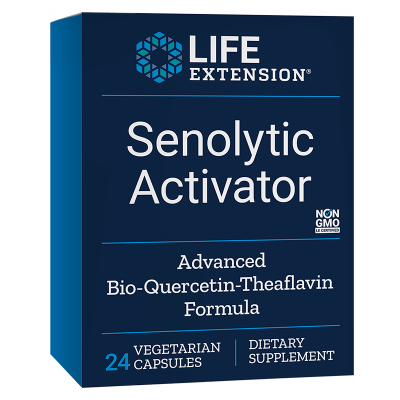 Senolytic Activator, 24 veg. caps | Life Extension
Life Extension
LE02301
Product Description

Supplement Facts

Dosage and use
Fight senescent cells and aging
Health Benefits at a Glance:
Every person in the world has senescent (aging) cells in their body. The older you get, the more senescent cells you have. The senescent cells can gradually affect the functioning of healthy and youthful cells around them. Senolytic Activator contains a completely unique mix of theaflavins from black tea and quercetin that helps the body remove these senescent cells easily, help cellular rejuvenation and promote longevity. 
Why it Works:
Cellular senescence is a natural part of the aging process in which cells no longer function optimally. Senescent cells can accumulate over time, affecting the day-to-day function of the healthy cells around them.
Senolytic compounds selectively target senescent cells [1]. New research indicates that black tea theaflavins and quercetin target specific biological pathways, making it easier for the body to manage senescent cells [2-4].
Moreover, senolytic research indicates that intermittent dosing in pre-clinical studies is effective at improving healthspan [4, 9]. That's why Senolytic Activator instructions call for taking just two vegetarian capsules, once a week!
The Science Behind the Product:
Senolytic Activator contains a unique combination of two ingredients that offer a dual strategy for fighting senescent cells.
Quercetin - promotes cellular health
Quercetin supports endothelial and cardiovascular health, promotes healthy immune function and more [7, 8]. The value of quercetin has been recognized for some time. But its potential to meaningfully impact whole body rejuvenation is just starting to be uncovered through its senolytic activity. The discovery that quercetin is a senolytic compound has drawn significant attention to this unique approach to combat aging [4].
Standard quercetin is hard to absorb. But this formulation features our new quercetin phytosome, a phospholipid sphere that encases the quercetin, aiding in its absorption and making it up to 50 times more bioavailable.
Theaflavin - helps reduce the senescent cell burden
Theaflavins are compounds derived from Camellia sinensis (tea plant). Theaflavins have widespread health benefits — supporting healthy cell division and healthy inflammatory response [5, 6].
New research indicates that theaflavin may be especially helpful for reducing the body's senescent cell burden. In pre-clinical models, theaflavins helped inhibit the accumulation of particular cell senescence biomarkers powerfully [2].
Serving Size 2 vegetarian capsules

Amount Per Serving

Bio-Quercetin phytosome (providing 25 mg quercetin [from Japanese sophora concentrate (flower bud)], phosphatidylcholine complex [from sunflower])

74 mg

Theaflavins [from decaffeinated black tea extract (leaf)]

275 mg

Other ingredients: vegetable cellulose (capsule), microcrystalline cellulose, vegetable stearate, silica.
Non-GMO
Dosage and Use
Take two (2) capsules once weekly, with or without food, or as recommended by a healthcare practitioner.
Warnings
KEEP OUT OF REACH OF CHILDREN
DO NOT EXCEED RECOMMENDED DOSE
Do not purchase if outer seal is broken or damaged.
When using nutritional supplements, please consult with your physician if you are undergoing treatment for a medical condition or if you are pregnant or lactating.
A food supplement should not be used as a substitute for a varied and balanced diet and a healthy lifestyle. Store tightly closed in a cool and dry place.