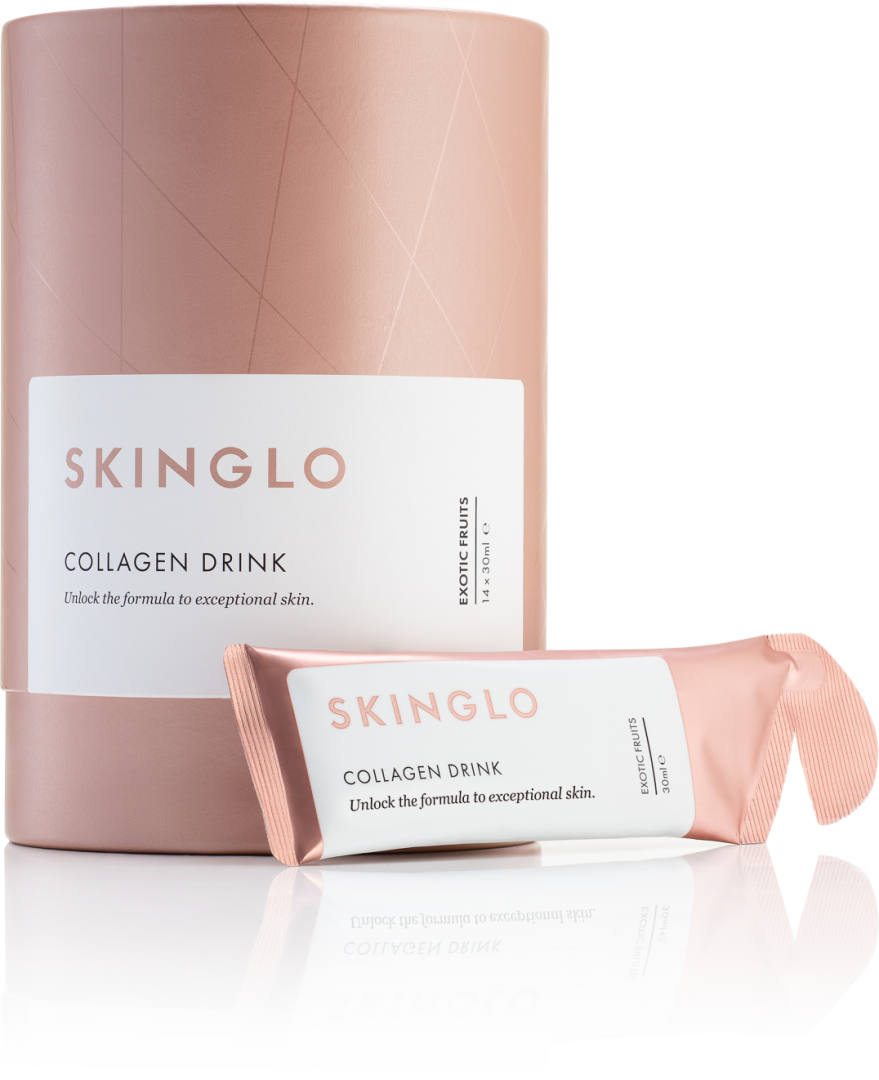 SkinGlo liposomal collagen drink - Nutrivitality - 14 Sachets x 15ml Exotic fruit flavour
SKINGLO
Product Description

Ingredients

Supplement Facts

Ingredient Benefits

Overview
Collagen drink for women
Unlock the secret to a beautiful complexion by giving your body what it needs to revive the skin from within. Get smoother skin, stronger nails, and healthier hair from as little as 2 weeks.
The skin is the body's largest organ and has been suggested to reflect health imbalances that are going on inside the body. The skin has 3 main layers; First layer called Epidermis, middle layer is the Dermis and the third layer called subcutaneous tissue. All the layers are made up of water, protein, fats, minerals and chemicals. The health of the skin is dependent on many vital nutrients however many factors contribute to deterioration of skin health, the aging process and ultimately the appearance of the skin.
 
For example, environmental factors include exposure to UV radiation, pollutants and poor air quality. These are considered external (extrinsic) factors whereas internal (intrinsic) aging occurs as a result of free radical damage at cellular level and occurs naturally to a certain extent but lifestyle factors such as diet, poor sleep, stress and bad habits such as smoking, and alcohol intake can also be significant factors contributing to aging and the health of the skin. Other factors affecting the health and appearance of the skin include hormonal changes, nutritional deficiencies and digestive health.  

Whilst it is impossible to stop the aging process, it may be possible to slow down the rate at which it occurs. Research suggests specific key nutrients can help improve the appearance of the skin as a result of their mechanism in the body.
 
Skin Glo has been scientifically developed to incorporate Peptan collagen alongside other key nutrients which have been shown to work synergistically together to help achieve exceptional skin from the inside out.
| Ingredient | Daily Dose | NRV% |
| --- | --- | --- |
| Hydrolysed Marine Collagen | Peptan® | 8000mg | – |
| Methylsulphonylmethane (MSM) | 500mg | – |
| Ascorbic Acid (Sodium Ascorbate) | 200mg | 250 |
| L-Lysine | 90mg | – |
| Wheat Lipid Extract (rich in ceramides) | 30mg | – |
| Hyaluronic acid | 10mg | – |
| Vitamin B1 (Thiamine) | 4mg | 364 |
| Vitamin B2 (Riboflavin) | 6mg | 429 |
| Vitamin B3 (Niacin) | 16mg | 100 |
| Vitamin B5 (Pantothenic Acid) | 21mg | 350 |
| Vitamin B6 (Pyridoxine Hcl) | 4mg | 286 |
| Vitamin B7 (Biotin) | 200µg | 400 |
| Vitamin B9 (Folic Acid) | 200µg | 100 |
| Vitamin B12 (Methylcobalamin) | 10µg | 400 |
Ingredients:  Purified Water, Hydrolysed Marine Collagen (fish), Methylsulphonylmethane (MSM), Phosphatidylcholine (Soy Lecithin), Natural Flavourings, Sodium Ascorbate, Acid: Citric Acid, Flavouring, Sweetener: Sucralose, L-Lysine, Preservative: Potassium Sorbate, Wheat Lipid Extract, Vitamins: B5, B3, Hyaluronic Acid, Vitamins: B2, B1, B6, B7, B9, B12.
For allergens see ingredients in bold.
Up to 8x more absorption compared to other supplements

Delivers collagen and other nutrients to the bloodstream within one hour, thanks to our liposomal technology

8g of hydrolysed collagen per sachet – the highest amount on the market, in the most bio-available form

Easy to take liquid

Non-medical solution

Ceramides to limit the loss of collagen from the dermis

39% increased moisture and reduction of fine lines in just two weeks

See results in 14 days*
* Current testers are seeing benefits within 72 hours.
Ceramides Within the skin's epidermis there are layers of cells which are surrounded by lipid molecules known as ceramides. The role of ceramides is to act as a barrier, helping to protect the skin and in doing so they plump out the skin and help to retain moisture. With age, the levels of ceramides in the skin naturally decline which results in fluid loss and ultimately dehydration and the appearance of aging of the skin. The role of supplemental ceramides has been proven to be clinically effective in helping to improve the function and appearance of the skin. Ceramosides is a leading brand of supplemental ceramides which has shown in studies to improve skin moisturisation by more than 16% compared to placebo in as little as 15 days and more than 21% compared to placebo after 2 months. In one study it was also observed that there was a significant reduction in the amount of fluid lost from the epidermis with the use of Cermosides. A further double blind clinical trial showed a significant reduction in wrinkles after 2 weeks supplementation with Ceramosides and an improvement in skin's elasticity by more than 18% compared to placebo after only 15 days.

Methylsulfonylmethane MSM is a chemical, a type of organic sulphur that is naturally occurring in plants, animals and in the human body. Specifically, it plays a role in the formation of keratin and collagen, fibrous structural proteins found in the hair, nails and the outer layer of the skin. If sulphur is lacking in the body, this can lead to cracking of the skin and wrinkles. One of the other benefits of MSM is it may help in reducing spots as sulphur is important for maintaining detoxification of the skin (Mindell, 1997).

Research suggests supplementing with MSM can significantly increase skin's firmness and reduction of the appearance of fine lines and wrinkles as well as improved tone and texture (Anthonavage, M et al, 2015).

Ascorbic Acid (sodium ascorbate) is otherwise known as Vitamin C. It is an important antioxidant which helps to slow down free radical damage and therefore slow down aging of the skin. It also plays a key role in the production of collagen formation which is key for anti-aging.

L-Lysine Overview One of the essential amino acids, it is an essential building block of protein. L- Lysine cannot be made by the body and must be obtained through the diet. Whilst all proteins are important for the health of the hair, skin and nails research has shown that specific amino acids have a direct benefit. Lysine has been shown to be fundamental in the synthesis of collagen in the skin (English, J 2013)

Hyaluronic Acid Overview Youthful skin has a considerably high content of water however as the skin ages it loses its water and therefore moisture content. Naturally occurring in the human body, hyaluronic acid plays a key role in the hydration and lubrication of the skin due to its unique ability to bind and retain water molecules. Therefore, Hyaluronic Acid assists in helping the skin to retain moisture and prevent dehydration which contributes to the improved appearance of the skin (Eleni Papakonstantinou, 2012). Some research suggests taking Hyaluronic Acid may help to smooth out the appearance of fine lines and wrinkles due to its plumping action (Anthonavage, M et al, 2015). Production of Hyaluronic acid has been shown to be boosted by the presence of collagan peptides (Campos, 2015), making it an ideal synergistic component within the SkinGlo formula.

Flaxseed Oil is a very rich source of Omega 3 and 6, types of polyunsaturated fatty acids that play a critical role in normal skin function and appearance and therefore they are considered essential nutrients for the skin (Giana Angelo, 2012).

Research shows dietary supplementation of Essential fatty acids are vital for a number of key areas in reducing skin aging (Burr GO, Burr MM, 1929).


Wheat Lipid Extract is rich in ceramides which are specific lipid components of the skin. Ceramides contribute to skin hydration and therefore early studies suggest Wheat Lipid Extract plays a role in protecting the skin from dehydration (S. Guillou, 2009).

Vitamin B1 The B Vitamins have been shown to play a vital role in the health of the skin. Vitamin B1 otherwise known as Thiamine acts as an anti-oxidant, protecting the skin from the degenerative effects of aging (Balch, 2010).

Vitamin B2 Otherwise known as Riboflavin, vitamin B2 facilitates the use of oxygen by the tissues of the skin, hair and nails. A deficiency of this vitamin is associated the development of skin lesions (Balch, 2010), therefore it is crucial for maintaining optimal skin health.

Vitamin B3 Like the other B vitamins, Vitamin B3 also known as Niacin, helps to maintain healthy skin. It is often used to help reduce inflammatory skin conditions and skin irritation. It is also believed to play a role in cell signalling and DNA repair. It is thought to protect the skin against sun damage due to its antioxidant activity. Early research suggests Niacin may also help to prevent certain types of skin cancer (Chen, 2015)

Vitamin B5 Also known as pantothenic acid, B5 is thought to help rejuvenate aging skin as it is involved in cell healing and growth, encouraging the synthesis of protein formation (Brewer, 2002).

Vitamin B6 B6, also known as Pyridoxine is involved in the health of rapidly dividing cells found in the skin so is important for skin renewal. A deficiency of this nutrient has been linked with skin conditions such as acne and excess sebum production (oily skin) (Balch, 2010).

Vitamin B7 Because Biotin plays a role in skin health sufficient quantities are needed in order to maintain healthy skin. Deficiency has been associated with inflammation of the skin, such as the conditions psoriasis, eczema and acne (Balch, 2010).

Vitamin B9 Otherwise known as Folic acid, it is part of the B vitamin family and therefore works synergistically with the other b vitamins to improve overall health of the skin however a key role of folic acid is healthy cell division and replication and therefore contributing to healthy cell renewal which helps improve the appearance of skin.

Vitamin B12 plays a key role in anti-aging, it works alongside folic acid in cell division and cell turnover and contributes to the health and appearance of skin (Balch,2010). 
Coming from the labs at Nutrivitality, SkinGlo was created because conventional Collagen supplements were lacking the technology to make them work efficiently. Nutrivitality leads the way in world-class supplements with their invention of NutriProtect Technology, which uses liposomes to protect vitamins & nutrients on their way to your bloodstream. This allows for an up to 8 times more absorption than other supplements on the market. SkinGlo contains this ground-breaking technology, ensuring you're getting the most effective anti-ageing skincare supplement available.