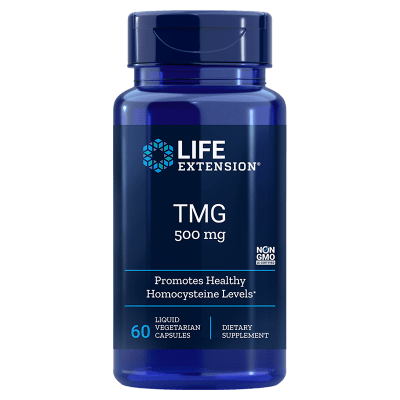 TMG 500mg | 60 liquid vegetarian capsules | Life Extension
Life Extension
LE01859
Product Description

Supplement Facts

Usage Guide
Promotes a healthy heart
Trimethylglycine (TMG), also known as glycine betaine, refers to three methyl groups attached to a molecule of glycine. In the 1950s, TMG was discovered to be beneficial to the heart and it functions in a similar way to vitamin B12. As a methyl donor, it provides methyl groups to other bodily molecules. When a TMG methyl group is donated to a molecule of homocysteine, the cardiovascular risk factor is converted back to the beneficial amino acid, methionine. While working to promote healthy levels of homocysteine, alone or in conjunction with other nutrients, it has been attested as an important nutrient for cardiovascular health.
Supplement Facts
Serving Size 2 vegetarian liquid capsules

Servings per Container 30

Amount per Serving

Trimethylglycine (TMG) (as betaine anhydrous)

1000 mg

Other ingredients: glycerin, vegetable cellulose (capsule), purified water.
Dosage and Use
Suggested daily intake is two (2) capsules in the morning, with or without food, or as directed by a medical practitioner. 

TMG should be taken with co-factors B6, B12 and folic acid. 
Caution
If muscle tension or headaches occur, reduce dose or discontinue use, and inform your medical practitioner if they do not subside.