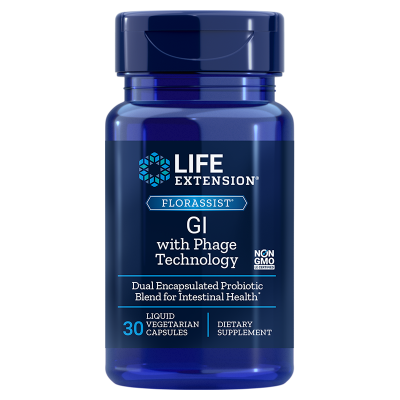 FLORASSIST GI with Phage Technology | 30 Vegetarian Liquid Capsules | Life Extension
Life Extension
LE02125
Product Description

Supplement Facts

Dosage and Use
Dual Probiotic Purpose: Reduce Bad Intestinal Bacteria and Grow Probiotics
Health Benefits at a Glance:
Probiotics help balance the ratio of good-to-bad bacteria in your intestine. But there's never been a probiotic supplement that helps tilt those scales in your body's favor, until now. FLORASSIST® GI's dual-action formulation contains both a proprietary probiotic blend and a TetraPhage Blend that affects only undesirable bacteria, while leaving the "good" bacteria of your digestive system alone to multiply.
Why it Works:
Our "microbiome" contains (or includes) all the bacteria that can be found on and in your body, but they really take center-stage in your digestive systems. Dietary and surroundings have changed a lot over the last century and put favorable or "good" probiotics under siege which can impact your digestive system [1-3]. That is why we have developed FLORASSIST ® GI with Phage Technology, which uses a unique and innovative two-step combination to bring your intestinal bacterial balance back to normal and enhance your well-being.
FLORASSIST ® GI with Phage Technology first targets bad bacteria that have a negative impact on your intestinal health, inhibiting their activity and growth. It then delivers 15 billion healthy bacteria (probiotics), that are ready to colonize your intestinal system the moment they enter it. That way, FLORASSIST ® GI with Phage Technology can bring back your intestinal bacterial balance to normal levels as well as support and sustain it.
The Science Behind the Product:
Studies show that shifting our microbiomes toward a healthy profile can have a positive impact on overall health and well-being3. FLORASSIST ® GI with Phage Technology consists of two probiotic blends, one that inhibits bad intestinal bacteria (TetraPhage Blend) and one that supports growth of healthy probiotics. The blends are contained in a double-layered capsule making sure that the probiotics can pass undamaged through the harsh acidic stomach environment. Both blends are released at the same time, once the inner capsule [CM3] has been breached in the intestinal system.
The TetraPhage Blend, is made up of four unique bacteriophages, which are microscopic bundles of DNA or RNA that attach themselves to a unique strain of unwanted bacteria, thereby destroying them.
Supplement Facts
Serving Size 1 liquid capsule

Amount Per Serving

Immune Probiotic Blend™

15 Billion CFU†

L. acidophilus La-14; B. lactis Bl-04; L. paracasei Lpc-37; L. rhamnosus Lr-32; B. bifidum/lactis Bb-02; B. longum BB536®

 

TetraPhage Blend

15 mg

LH01 - Myoviridae; LL5 - Siphorviridae; T4D - Myoviridae; LL12 - Myoviridae




Other ingredients: glycerin, vegetable cellulose (capsule), microcrystalline cellulose, silica, purified water, stearic acid, chlorophyllin.
†Colony Forming Units at time of manufacture.
Non-GMO
Dosage and Use
Take one (1) capsule daily with or without food, or as recommended by a healthcare practitioner.
Warnings
KEEP OUT OF REACH OF CHILDREN.
DO NOT EXCEED RECOMMENDED DOSE.
Do not purchase if outer seal is broken or damaged.
 If you are undergoing treatment for a medical condition or if you are pregnant or lactating, please consult with your medical practitioner first.
A food supplement should not be used as a substitute for a varied and balanced diet and a healthy lifestyle. Store tightly closed in a cool and dry place.