Product Description

Supplement Facts
Ionic Selenium is a rich, concentrated liquid dietary supplement that provides selenium in an ionic form–the form most widely recognized by the body.  Also contains a full spectrum of concentrated Ionic Trace Minerals. 
48-day supply, 300 mcg/serving of a Selenium Complex.
Ionic Single Minerals from Trace Minerals Research® combines high quality single mineral ingredients and over 72 trace minerals and elements from ConcenTrace® in a unique new proprietary process. This unique blend gives the body the type of minerals that it readily recognizes and absorbs fast because of its liquid Ionic state.
Each bottle comes with a metered dropper which allows for variable dosing. Health care providers recommend different doses, depending on your needs. The metered dropper allows for these recommendations to be followed, where a normal tablet or capsule does not.
✓ We're Here To Help!  0345 60 61 301 Mon-Fri (10am-4pm)
✓ FREE UK SHIPPING ON ALL ORDERS OVER £30!
✓ 5* Reviews Our Customers Love Us!
✓ Same Day shipping on orders placed before 1pm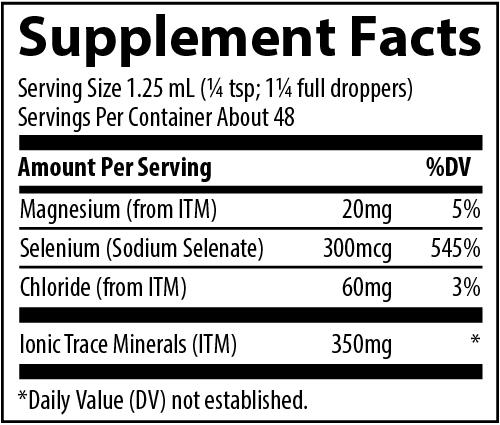 INGREDIENTS
Purified water, Non-GMO citric acid, potassium benzoate (for freshness).
ALLERGEN INFO
NO KNOWN ALLERGENS. GLUTEN FREE. VEGAN. NON GMO