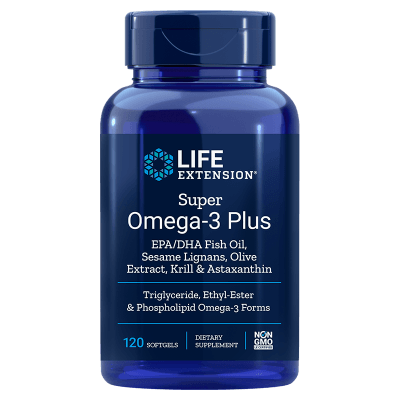 Life Extension - Super Omega-3 Plus EPA/DHA with Sesame Lignans, Olive Extract, Krill & Astaxanthin
Life Extension
LE01988
Product Description

Supplement Facts

Dosage and use
Health Benefits at a Glance:
Omega-3 acids and DHA in Super Omega-3 Plus EPA/DHA with Sesame Lignans, Olive Extract, Krill & Astaxanthin can support your cardiovascular system and brain. Furthermore, the fish oil used in this product has been gently purified by a proprietary process to rule out contamination with environmental pollutants.
Why it Works:
Researchers have long known the benefits of the omega-3 fatty acids, which are abundant in the Mediterranean diet. Now, however, a new branch of research has surprisingly shown that omega-3 fatty acids from different sources can have complementary benefits throughout the body. As part of our OMEGA FOUNDATIONS® line, Super Omega-3 Plus EPA/DHA with Sesame Lignans, Olive Extract, Krill & Astaxanthin provides the body with omega-3 fatty acids from krill- and fish oil, which together can provide enhanced support for your cardiovascular system as well as your brain - all in a single softgel.
Both fish oil and krill oil provide omega-3 fatty acids to help restore the omega-6/omega-3 balance in the body. Furthermore, the omega-3s found in krill oil are incorporated more rapidly into the red blood cell phospholipids, which are quickly absorbed into brain cells.
Furthermore, this product also contains astaxanthin, which is a powerful antioxidant carotenoid that has been shown to control free radical activity and boost mitochondrial function.  Astaxanthin may help support joint, DNA, brain, the cardiovascular system, the immune system and mitochondrial health.
Standardized olive fruit polyphenol extract is also included in this formula. Polyphenol extracts from olive fruit may help protect normal LDL cholesterol from being oxidized. And finally, it's worth mentioning that this product is made with fish oil so pure that they exceed international standards for the best purity on the market.
The Science Behind the Product:
The OMEGA FOUNDATIONS® supplement features AlaskOmega® - a fish oil made from wild-caught cold-water Alaska Pollock which is processed in the United States. For the production of fish oil, proprietary technology is used that purifies the fish oil within a highly advanced distillation process that diminishes the pollutants from the environment. Additionally, fish oil is also produced from a Marine Stewardship Council (MSC) certified sustainable fishery, dedicated to sustainable harvesting practices and protection of the fishery ecosystem.
Astaxanthin found in the Super Omega-3 Plus EPA/DHA with Sesame Lignans, Olive Extract, Krill & Astaxanthin is a powerful antioxidant carotenoid which is naturally present in krill oil. Astaxanthin has been shown to play a role in controlling free radical activity and increasing mitochondrial function [3]. Research shows that this antioxidant can help support the joints as well as brain, cardiovascular-, immune- and mitochondrial health.
Furthermore, it can also support healthy blood glucose levels for those already in the normal range and can protect sensitive cells in the eye. Research also suggests that polyphenol extracts from olive oil can help to protect normal low-density lipoprotein (LDL) cholesterol from oxidation. Besides, sesame lignans in Super Omega-3 Formula Plus play a role to support the omega-3 fatty acids by making them more stable. 
Supplement Facts
Serving Size 2 softgels

Servings Per Container 60

Amount Per Serving

Calories

25

Total Fat

2.5 g

Cholesterol

< 5 mg

Pure+™ Wild Fish Oil and Antarctic Krill (Euphausia superba) Oil Concentrates

2350 mg

Yielding:

 

EPA (eicosapentaenoic acid)

750 mg

DHA (docosahexaenoic acid)

510 mg

Phospholipids

60 mg

Polyphen-Oil™ Olive extract (fruit and leaf) [providing 45 mg polyphenols, 11.25 mg verbascoside/oleuropein, 9 mg hydroxytyrosol/tyrosol]

200 mg

Sesame seed lignan extract

5 mg

Natural Astaxanthin (from CO2 extract of Haematococcus pluvialis algae)

2 mg

Other ingredients: highly refined fish oil concentrate (Anchovy), gelatin, glycerin, beeswax, purified water, silica, natural flavor, extra virgin olive oil, caramel color, mixed tocopherols, maltodextrin, rosemary extract.

Contains fish, crustacean shellfish (krill) and sesame.

Non-GMO
Dosage and Use
Take two (2) softgels twice daily with meals, or as recommended by a healthcare practitioner.
Caution
If you are taking anti-coagulant or anti-platelet medications, or have a bleeding disorder, consult your healthcare provider before taking this product.
Warnings
KEEP OUT OF REACH OF CHILDREN.
DO NOT EXCEED RECOMMENDED DOSE.
Do not purchase if outer seal is broken or damaged.
 If you are undergoing treatment for a medical condition or if you are pregnant or lactating, please consult with your medical practitioner first.
A food supplement should not be used as a substitute for a varied and balanced diet and a healthy lifestyle. Store tightly closed in a cool and dry place.