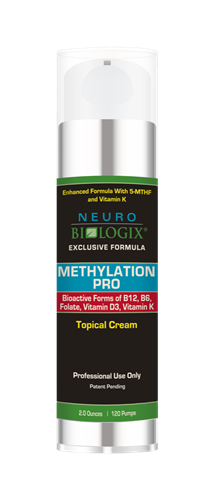 Methylation Pro Topical Cream | 59ml | Neurobiologix
NeuroBiologix
NB09OTP
Overview

Features

Usage Guide

Ingredients
Enhanced Formula With Additional 5-Methyltetrahydrofolate (5-MTHF) and Now Vitamin K For Improved Delivery

Advanced Topical Cream for Neurological, Nervous & Immune System Support / Ultimate Methylation Support

The addition of Vitamin K in this methylation support cream is recommended for those who are hindered by a methylation deficiency and/or a VDR Taq genetic polymorphism which inhibits the person's ability to absorb vitamin D at the cellular level without the cofactor Vitamin K. Impaired vitamin D function due to this polymorphism can result in significant immune weakness, early bone loss and increased risk of cognitive decline and mood issues.
As a solution, Neurobiologix's unique topical delivery system assures that our professional grade Methylation Pro promotes and enhances the methylation processes needed to improve the production of glutathione, increase Vitamin D levels and allow maximum B12, B6 and vitamin delivery to the nervous and immune systems.
✓ We're Here To Help!  Tel - 0345 60 61 301 
✓ FREE UK SHIPPING On all orders over £30!
✓ 5* Reviews Our Customers Love Us!
✓ Same Day shipping on orders placed before 1pm
This potent nutrient-rich cream may help maximize and aid in:


Mood Improvement & Stabilization*
Mental Focus & Concentration*
Organization Skills*
MTHFR Mutations*
Short Term Memory Loss*
Supporting a healthy sleep cycle*
Immune Function and well-being*
Patients with a VDR Taq mutation (SNP)*
Such nutrients as Pyridoxal 5-Phosphate (B6) and Vitamin B12 in a methylated form called methylcobalamin (Methyl B12) and hydroxycobalamin (Hydroxy B12) and natural Vitamin D and K assist the body neurologically and physically.*
Why is Vitamin B12 necessary?
Knowing the facts about vitamin B12 is vital to your health. This essential micronutrient affects the development and maintenance of red blood cells, nerve cells, and normal myelination (covering) of nerve cells. It also aids in the production of DNA and RNA and the production of neurotransmitters.*
5-methyltetrahydrofolate (5-MTHF) is the metabolically bioactive form of folate. The folic acid found in food has to be cleaved (digested) from protein carriers in order to be absorbed. This process is inefficient in some individuals. Once absorbed, dietary (and supplemental) folic acid has to then undergo several biochemical conversions (methylation) in the body to become 5-MTHF. Studies have shown that roughly one in three Americans have genetically inefficient enzymes that help create methyl folate so the cream will assist with supplying the 5-Methyltetrahydrofolate for optimal help.*
 *This product is not intended to treat, cure, diagnose or prevent any disease
Directions: One dosage twice daily or as recommended by your healthcare professional. Each dosage should average in size to that slightly smaller than a dime. Due to the design of the airless pump several pumps may be required to dispense the first dose. This airless pump design is to protect the stability of the cream at all times during its use. Each bottle contains approximately 120 pumps.
NOTE: Several pumps may be required to equal that amount depending on the stage of the bottle's usage. This may vary due to the vacuum pump that protects the cream. Each bottle contains approximately 120 dosages.
Recommended Dosage: 1 pump twice daily - 1 pump in AM, 1 pump in PM 2-3 hours prior to bedtime.
Extra Dosages: 1 pump three times daily - 1 pump in AM, 1 pump Mid-Afternoon, 1 pump 2-3 hours prior to bedtime.

Recommended areas for application: Above wrists on inside of forearms, inner thighs, lower back. Depending on origin of placement absorption may vary. Wait at least 30 minutes after application before showering or bathing for maximum absorption and apply to areas that do not have hair.

Why 1 pump twice daily?
B vitamins dissipate from the nervous system within 12 hours. To keep a constant cycle of these nutrients, that are necessary for health, a second dose is always recommended for 24 hour delivery.

NOTE: Most people take one dose first thing in the morning, and a second dose around dinner time. B Vitamins can be very invigorating or if the person is highly deficient in these nutrients other issue like sleepiness may occur. If you are at all sensitive to medications or other supplements you may want to start with 1/2 a pump in the AM and a 1/2 pump in the PM to see how you respond, then build up to the 2 pumps a day. We suggest that you consult with a health care provider before beginning any new supplement regimen.
Listed are the approximate active ingredients PER PUMP.
L-5-MTHF (L-5-Methyltetrahydrofolate & Quatrefolic) Blend……4 mg
Folinic Acid............................................1 mg
Hydroxocobalamin (B12).......................1 mg
Methylcobalamin (B12)..........................1 mg
Pyridoxal- 5-Phosphate (B6)..................1 mg
Vitamin D3.......................................1200 IUs
Vitamin K2........................................100 mcg
Vitamin E..............................................25 mg