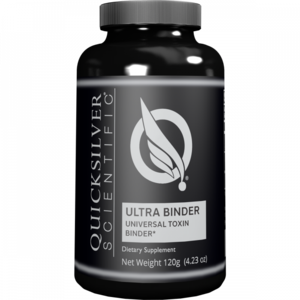 Ultra Binder 120g | Quicksilver Scientific
QuickSilver Scientific
QSUBINDER
Product Description

Supplement Facts

Usage Guide
There is no one binder that can eliminate all toxins. Many binders 'miss' key toxins and allow for their recirculation. Quicksilver Scientific's binds to and removes a wide array of toxins in the GI for safer, more thorough detox 
Broad-Spectrum Multi-Toxin Binder
Target Environmental Toxins – Heavy metals, pesticides, herbicides, hormone mimics, drug residues, food additives, mold and bacteria metabolites. Ultra Binder is formulated to catch them with an optimized blend of zeolite, bentonite clay, activated charcoal, and chitosan.*
IMD® Metal Detox – Quicksilver Scientific's proprietary mercury-binding complex supports natural elimination of metals.*
Help Soothe + Mend the GI Tract – Because binders can be constipating, mildly laxative acacia gum and soothing aloe vera are included. They can also support the health of the intestinal lining and the growth of friendly flora.*
✓ We're Here To Help!  0345 60 61 301 Mon-Fri (10am-4pm)
✓ FREE UK SHIPPING ON ALL ORDERS OVER £30!
✓ 5* Reviews Our Customers Love Us!
✓ Same Day shipping on orders placed before 1pm
ULTRA BINDER®
Supplement Facts
Serv. Size: 4 grams (1 tsp)
Amount
Daily
Serv. Per Container: 30
Per Serv.
Value
Dietary Fiber
1g
5%
Fiver/Clay Proprietary Blend;
Fibregum™ Bio (gum Arabic), Zeolite,
Sodium Bentonite Clay
1.36g
**
Proprietary Blend: Activated Charcoal, Chitosan, BioAloe® Aloe Vera Leaf, Silica Extract†.
2.64g
**
**Daily Value (DV) not established
% Daily Values are based on 2000 calorie diet
†IMD (Proprietary thiol-functionalized silica)
Mix 1 rounded teaspoon or 1 stick pack into 8 ounces of water once daily or as directed by a healthcare professional. Take 30 minutes before or 2 hours after meals or medications. If pregnant, consult a physician before use.
*This product is not intended to diagnose, treat, cure or prevent any disease.